After all the recent flooding, it seems strange to say that many central and southern areas have had no rain so far this month, but things are about to change. High pressure on the continent and over France is slipping away to the south, allowing a very mobile, brisk, westerly airflow elsewhere to spread to all parts.
It's a fine start over much of England, Wales and East Scotland, with mist, a few fog patches and some frost, this mainly around The Wash, Southern and South East England and across South Wales. This will soon clear to leave some sunshine for a while, but in the West, clouds are gathering as a warm front moves in off the Atlantic. The West of Scotland and parts of Northern Ireland have already seen some rain, that'll spread to all but the East and South through the day where cloud will increase later. Much of the rain across East Scotland will be patchy, with any that reaches the North Midlands or gets to the East of Pennines then mostly light.
Although light in the South at first, a South West wind will freshen to give gales, severe in the North, where gusts of 55 to 60mph are likely over exposed parts of North West Scotland and Northern Ireland. Although not feeling so in the East and South it'll become mild especially in the North and West, with top temperatures mostly 8 to 12C.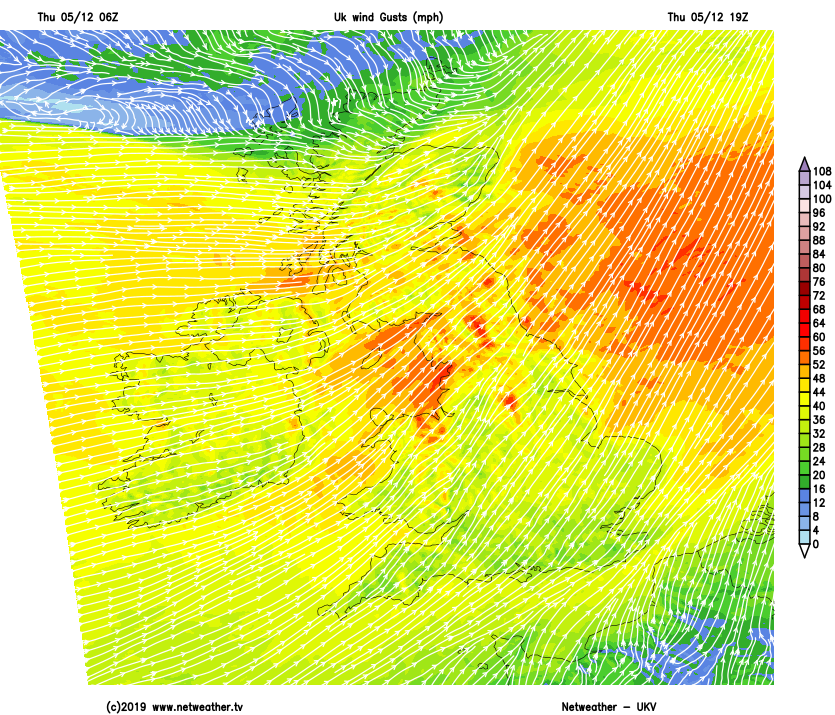 In a windy but very mild evening and night, temperatures will rise across the southern half of the country to be in the range 5 to 7C in the far North and 8 to 12C elsewhere by dawn. Most parts though see some rain heavy in places, that'll be lighter and patchy in the East and South before heavier bursts come along later in the night. Across Northern Ireland you'll see a change to somewhat clearer weather, but still with blustery showers that should have spread to much of Scotland before dawn. A South West or West wind remains fresh or strong, with gales in the North and West.