NW England will also turn cold under clearer skies. The high pressure begins to slide eastwards over Europe, but Tuesday looks fine, quiet again. Sunshine for England and Wales with lighter winds but still more cloud for Northern Ireland and Scotland with a moderate SW wind.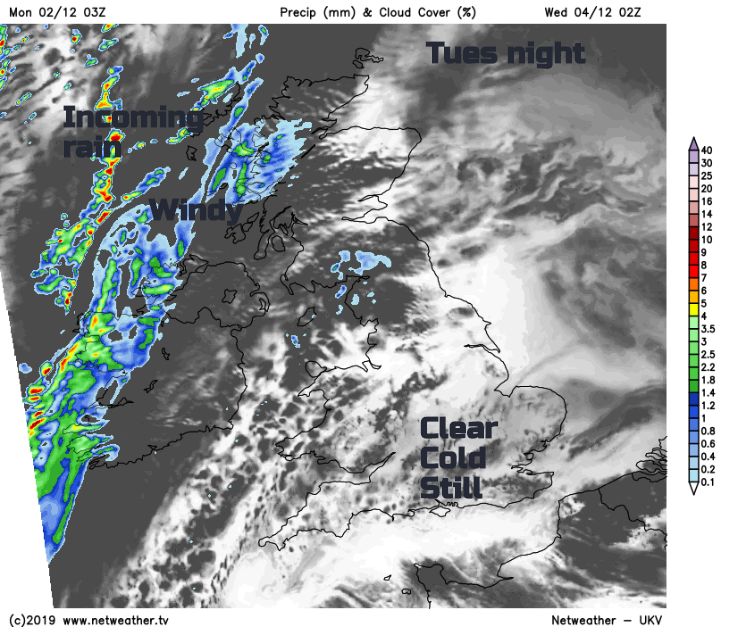 There are concerns for western Scotland and a Met Office yellow warning for Rain, Thursday into Friday. "Persistent heavy rain followed by showers are likely to produce some localised flooding and travel disruption. The rain will be accompanied by gale force southwesterly winds, with potential for gusts of 55-65 mph around coasts and hills. The rain will turn more showery overnight though further heavy and prolonged showers are likely on Friday morning. 40-60 mm of rainfall is expected widely across the warning area, but nearer 70-80 mm over the West Highlands and a few prone mountain locations could exceed 100 mm within a 30 hour period."
A cold front then approaches for the middle of the west from the west bringing more cloud and outbreaks of rain, even hill snow for western Scotland. High pressure manages to keep southern Britain calm and dry and the frontal rain only creeps over Northern Ireland into Cumbria by Wednesday afternoon. It will be windy in the far north but by Thursday more areas see brisk winds. Kent and London, Essex and Sussex keep the very light winds but for Wales, Belfast and Glasgow there will be a fresh SW wind as a new, developing low whistles through.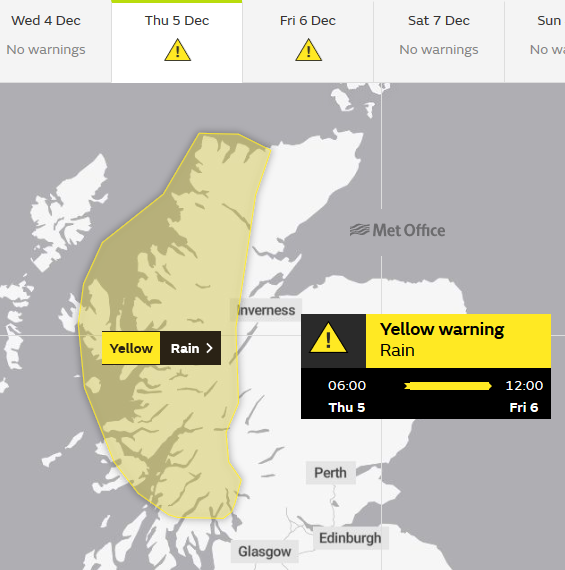 By Friday everywhere will be blustery with bands of rain from the Atlantic. Quite a change from the clear, cold frosty weather we have seen.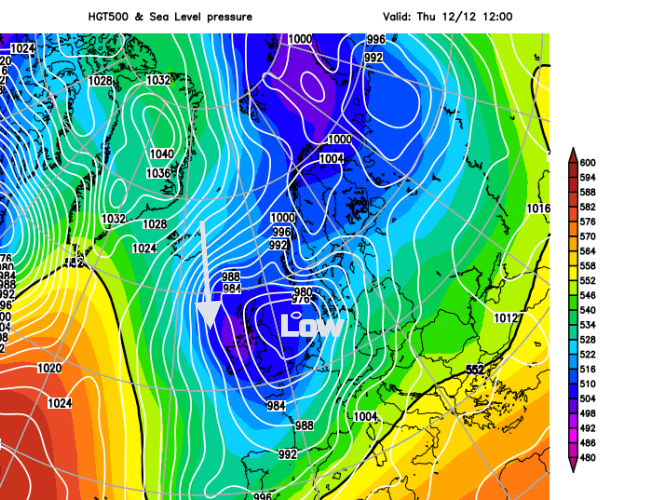 A look ahead to Polling day for the General Election 2019 weather. A brutal cold northerly bringing Arctic air and snow showers from the NW is on the current GFS chart. Could easily change but still a risk with a mid-December election.