It's the meteorological start to winter today and the weather is befitting of this new season, with a cold and, in places, frosty start and a chilly but sunny day ahead. High pressure will remain in charge across England and Wales for the first half of the week, so it will stay dry for most here, sunny but on the chilly side by day, while nights will be frosty. Scotland and N. Ireland will be cloudier, milder and breezier, with weather fronts bringing patchy rain across Scotland on Monday and again on Wednesday. Pressure will fall from the northwest across all parts on Thursday with milder, wet and windy conditions spreading across the north, breezy and less cold but dry in the south. Windy across all parts on Friday, with a spell of rain clearing southeast followed by colder air with showers across the north, which will turn increasingly wintry.
Today
For now, it's another cold start this morning. Frost not quite so extensive in the south as early Saturday, central and northern areas cold enough for a frost though. Scotland coldest overnight with temperatures falling as low -10.3C at Tulloch Bridge in the Highlands, making the coldest night since last winter, even in the central belt temperatures have fallen as low as -8C. Most places are dry and bright or sunny this morning, though there are some freezing fog patches to watch out for across southern Scotland and NW England. Not all places are dry, there are some showers affecting northern Scotland, northern N. Ireland and down the east coast of England.
Most places will remain dry and sunny today, but on the cold side. Fog patches may be slow to clear across parts of southern Scotland and NW England, holding temperatures down close to freezing. A north to northeasterly breeze across eastern areas will continue to feed in cloudier skies and showers across coastal eastern England and East Anglia, with showers also affecting northern Scotland. Temperatures reaching 6-8C generally, but across the central belt of Scotland, sheltered Glens elsewhere temperatures may struggle to get to 3C.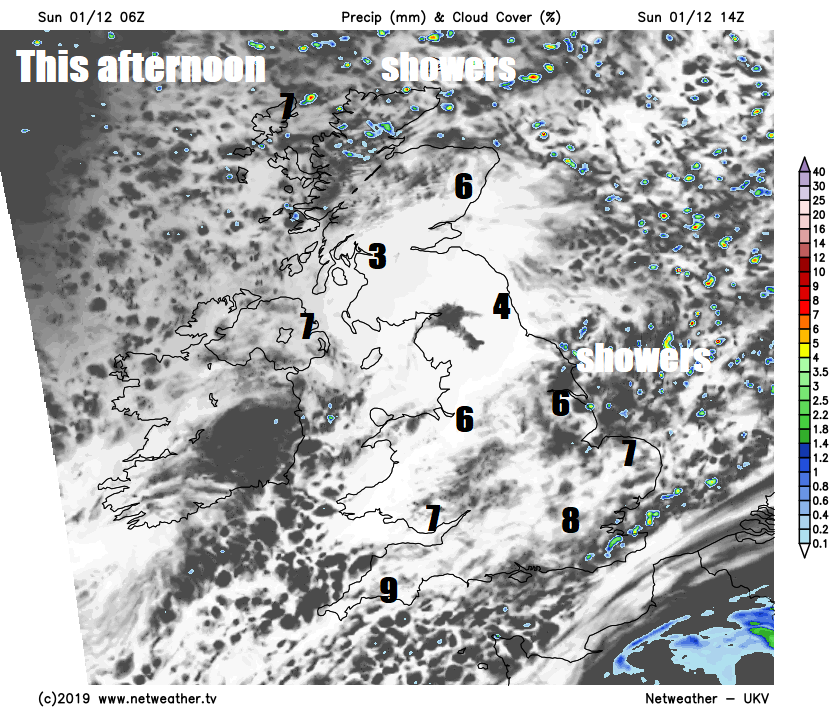 Tonight
It won't be as cold across Scotland and N. Ireland tonight, as we see a change in the position of high pressure further south, which will allow less cold air in from the northwest, with cloudier skies spreading in from the Atlantic across northern and western Scotland along with Northern Ireland through the night, with rain arriving across the far north of Scotland later in the night. Southern Scotland, England and Wales dry, clear and cold overnight, with a widespread frost developing.