It will be December this weekend, yes "where did the year go," can't believe it's nearly Christmas". The weather is set to shift as the month changes. Finally, we are seeing some drier weather in the forecast after the seemingly never-ending rain and flood risks. It is also turning much colder with a northerly flow, there is an ICE warning out for central Britain for Thursday night/early Friday and even a little snow showing up on the charts.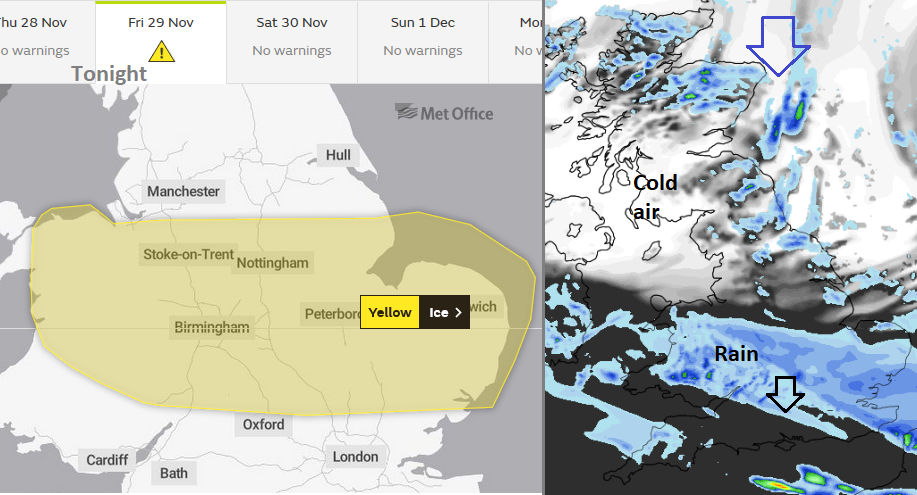 If you are thinking about a White Christmas we are in the second week of the Netweather Santa Shaker, the next update should be on Sunday 1st Dec. You chose your region and give Santa a shake and he shows your percentage chances of snow on Dec 25th. This far ahead it's more for fun and about trends but there will be more regular updates nearer the time.
This colder Arctic air is showing on the thickness charts, you can see the blue colours with the 528 line reaching NE Scotland tonight. This is the easiest snow indicator for the UK. Cold air is more dense than warm air, if you are looking at the same mass between two pressure levels, that distance up into the atmosphere varies depending on how cold or warm the air is. It is shown by a thickness of the air layer. The Netweather chart says 500-1000 hPa Thickness (dam). The dam is a Decametre. 10m, so the 528 line is 5280 metres from 1000hPa (or millibars) near surface pressure level up to the 500 hPa.