There has been a lull in the autumn wet weather for the flood-hit areas of England and Wales. Northern Ireland has stayed wet with a lingering weather front affecting western Britain at times this week. But over much of Britain, it has been fair and drier with the number of flood warnings decreasing this week. There were over 100 flood warnings for England in early November, which is now down to 6 on the 21st . Two along the River Severn in the Tewkesbury area, another river warning in Lincolnshire. There are two river warnings for East Riding of Yorkshire where Env. Agency pumps continue to work and a groundwater flooding warning for Barrow upon Humber.
There are also numerous alerts still ongoing. The ground remains saturated, river levels high but the environment agencies have been working hard in the drier lull to clear debris and inspect flood defences and also just recover themselves after the events a few weeks ago.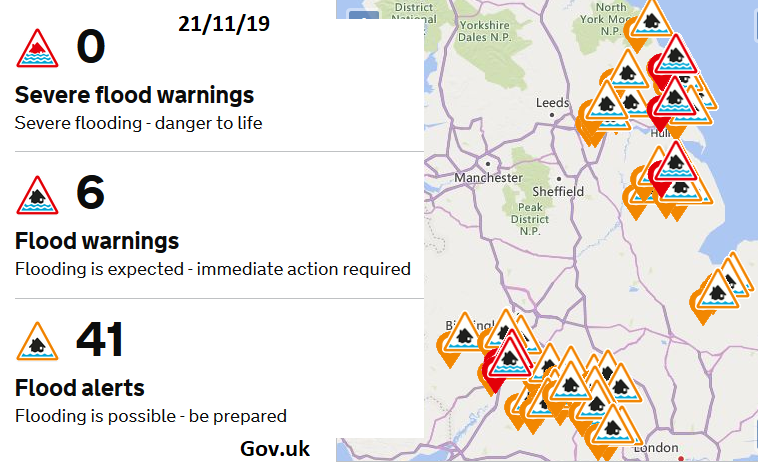 The forecast isn't so encouraging for the end of this week into next. At the moment there aren't signs of the heavy and persistent rain, as was seen earlier in November but after such a wet autumn and with the current conditions any extra rainfall is being viewed with caution. The main message is to sign up for flood warnings and make a flood plan.
It's not been wet for the whole of the UK, the NW Highlands and Shetland have had a dry and sunny November so far but with the widespread flooding for central parts of Britain and high rainfall totals by mid-month, some double the average already the climate data for November 2019 and Autumn 2019 will be rather interesting.