One wonders when this is all going to end, with more yellow warnings today of heavy rain causing further flooding. We already have some heavy rain through South Wales, the Midlands and East Anglia and some hill snow, with wet snow even reported at lower levels over parts of Gloucestershire and in the Bristol area.
Showers some heavy are also affecting the already flooded areas of Nottinghamshire, Derbyshire, Lincolnshire and South Yorkshire, with the two rain areas merging to give a wet day.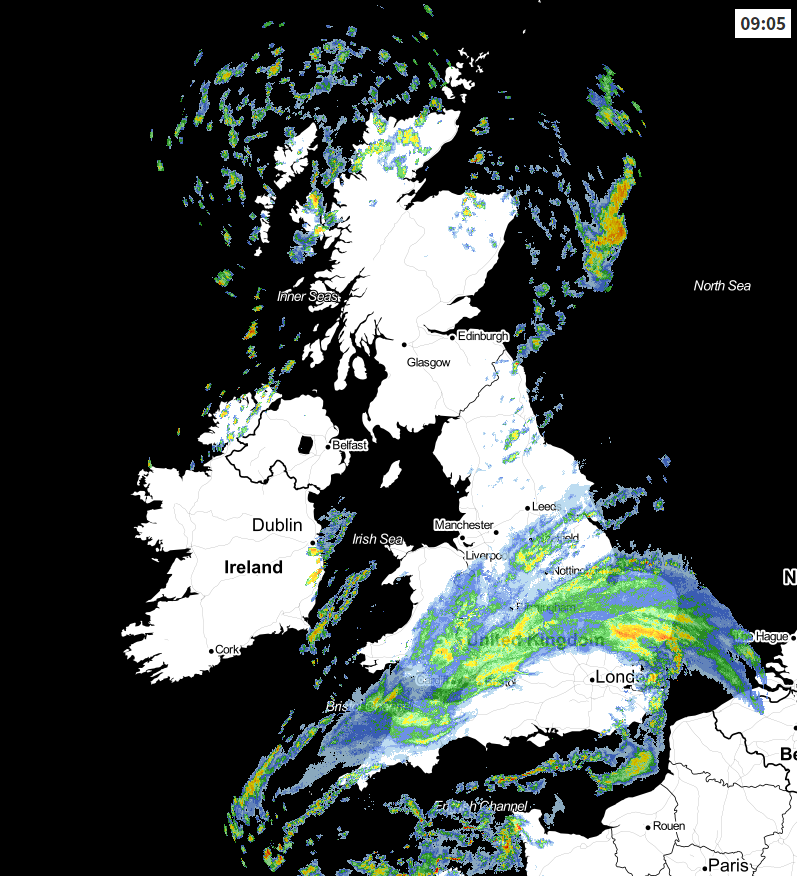 View the live radar here.
Across southern England it's less wet but dull with showers, this spreading to much of East Anglia through the day. Elsewhere you'll wonder what all the fuss is about, after a cold start with a sharp frost at first through the Central Lowlands. Much of Scotland, Northern Ireland, Cumbria and the far North of England, in fact, see sunny spells today and it'll be mostly dry, but with a few showers mainly across the North and East of Scotland where there have been icy patches this morning. A few of the showers will be heavy in a freshening North wind that'll feel raw. As a result, temperatures will get no higher than 4 to 6C and 6 to 8C In the South where winds will be somewhat lighter.
After dark, much of England and Wales continue to see cloud and outbreaks of rain, but thankfully, these should tend to become lighter and more patchy through the night. Eastern Scotland and coasts of Northern Ireland and Wales exposed to a fresh Northerly wind will also see some showers giving mostly hill snow, with skies breaking elsewhere at times to provide clear intervals. Here the emphasis will be on dry weather with another frost that could see temperatures falling to -2C in some Highland glens and sheltered rural parts of Northern Ireland. Elsewhere although feeling raw, the cloud and wind should prevent temperatures from falling below 2 to 4C.