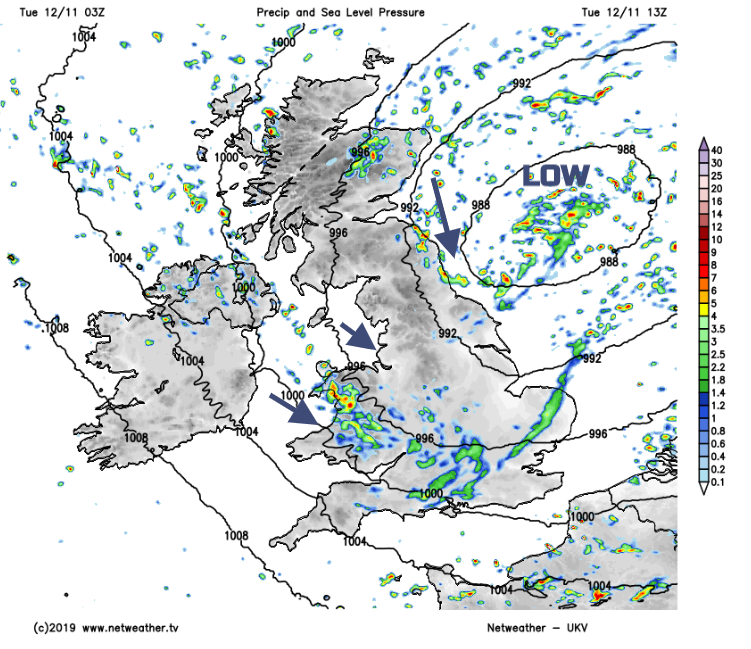 The winds ease down tonight as many of the showers ease off inland. A feed for Northern Ireland, Wales as the showers for NE Britain fade. It does become a cold, clear and calm night, a lull in between weather systems. With temperatures for inland Scotland down to -6 and -3C for the far north of England, it will be a frosty start for Wednesday with ice in places.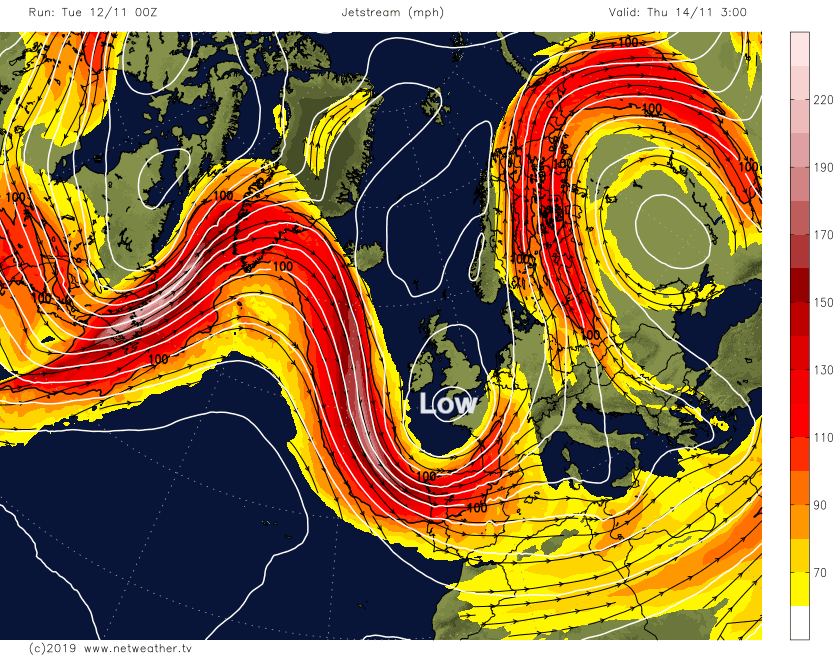 The buckling Jetstream guides a low pressure from Greenland down past Ireland and SW England to the Bay of Biscay. When there is a more zonal flow the jet powers west to east across the Atlantic, whisks deep low pressures across the UK, sometimes as storms and we get wind damage but not the linger rain which has already caused some much flooding. There haven't been any named storms yet this season. As low pressures get caught in the great meanders, their rain bands get stuck and dump large amounts of rain which has happened several times this autumn.
Wednesday looks fine and sunny for many but there will be showers for SW Britain with a spell of heavier rain late afternoon/evening for SW England, southern Wales and then southern England by the evening. There is now a Yellow warning for Rain from the Met Office. Windy around the low centre, particularly for Cornwall later in the day.
As the low pressure rotates across mainland Europe the worry, and hence the early yellow warning for rain, is that the frontal bands will bring persistent rain to England. More rain for soggy ground and high rivers. The bands could reach into SE Scotland and Wales, both wet as well but the risk of ongoing rainfall continues into Friday even the weekend. There will be brisk winds from the east or NE during Thursday and Friday, adding to the miserable feel to things and hill snow. The inner section of warning has been highlighted because these areas are so flood-sensitive. There is some uncertainty about there the rain bands will settle but the rainfall totals show more rain from the east over several days.