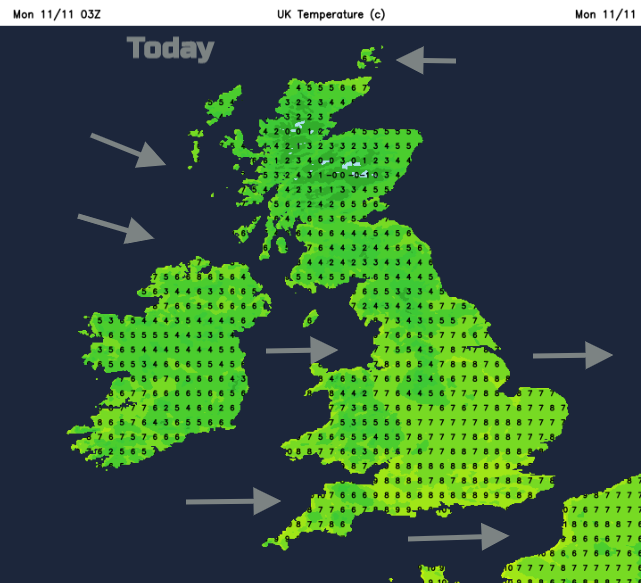 The wrap round occlusion will bring a wet afternoon to Orkney and there will still be more rain over Scotland into NW England and N.Ireland early on Tuesday as the low pressure rotates eastwards over the North Sea. Tuesday will be windy, feeling cold with more showery outbreaks driving inland. By Tuesday night, there will be colder air drawn down from the north and a widespread frost. This chill remains during the week, even colder for Friday night.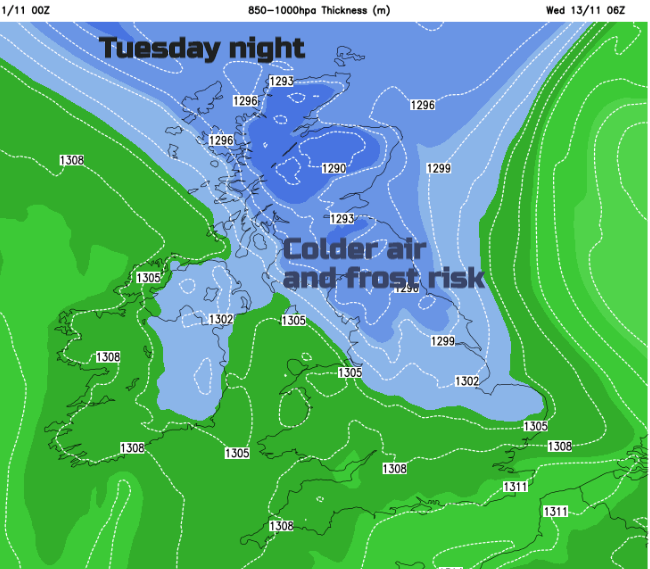 This colder air means that there will be snow over the hills and wintry bits caught up in the showers. Not a blanket of snow but you may notice some iciness in heavier showers particularly for Northern Ireland and northern Britain into Wales.
This snow risk is mentioned in the Yellow warning for Monday/Tuesday
…frequent (rain) heavy showers by Monday afternoon, these continuing until the middle of Tuesday. Over the high ground of the Peak District widely 30 mm is expected to fall with 60 mm possible in a few spots. Snow may prove an additional hazard, falling over the highest peaks at times but only small accumulations are expected. Met Office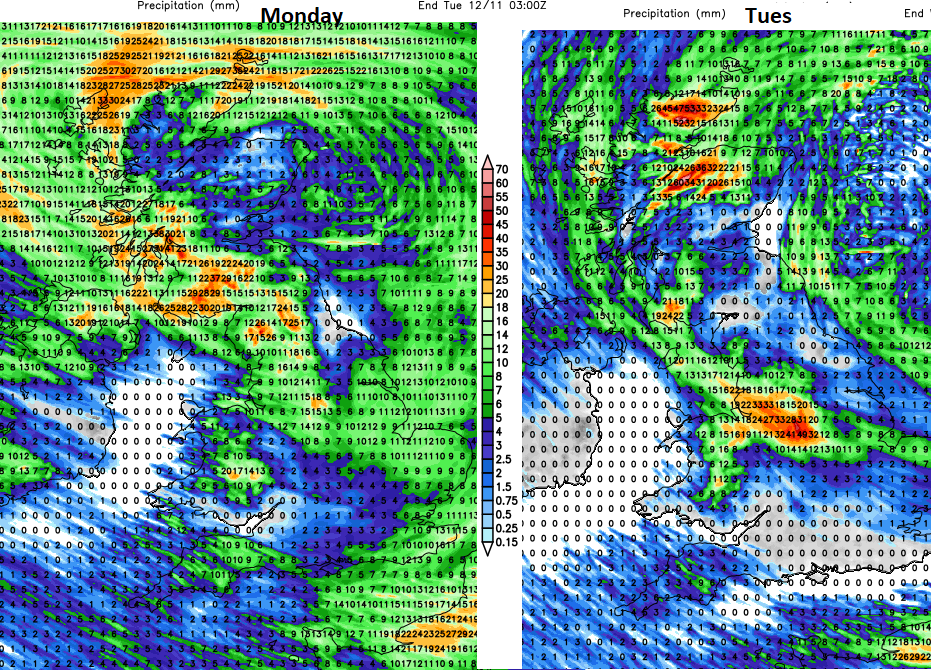 The next low pressure falls from the tip of Greenland, over Ireland then heads south to the Bay of Biscay. This itself doesn't cause too many concerns at the moment, we'll have to keep an eye on its location but as it moves south there will be an easterly flow off the North Sea and more rain for the flood sensitive areas of eastern England. Hence another yellow warning.
On Thursday heavy rain is possible across much of England and Wales and local flooding is possible but not expected. Flooding may be exacerbated across areas that have experienced recent flooding, including parts of South Yorkshire, Nottinghamshire and Lincolnshire. Properties may flood and there may be travel disruption in these areas. Met Office
This week looks blustery, unsettled and cold with the risk of more rain, hill snow, frost by night as flooding concerns continue.