Met Office yellow warning for Rain. Environment Agency/Natural Resources Wales issued low risk of river and surface water flooding Friday into Saturday.
Frontal rain approaches from the SW across Wales into NW England in the morning. There are some variations with the progress of the rain NE and when the winds will pick up. However, there will be a spell of very wet and windy weather for England and Wales in Friday. Currently, it looks windy with coastal gales for SW England, wet and windy for Wales into NW England lunchtime onwards. Also, the risk of heavy rain for NE or eastern England southern Scotland by Friday evening as the strong winds continue over Wales and parts of England.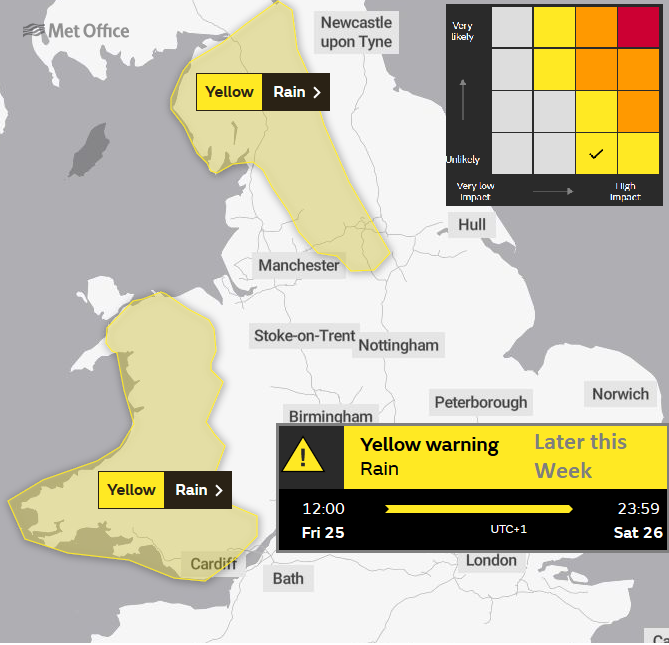 As the rain moves up from the SW, it will come into colder air and a bit of snow over northern hills is possible, for the Welsh mountains, Yorkshire Dales, north Pennines even into Scottish Borders. Not much but a reminder that winter is on its way.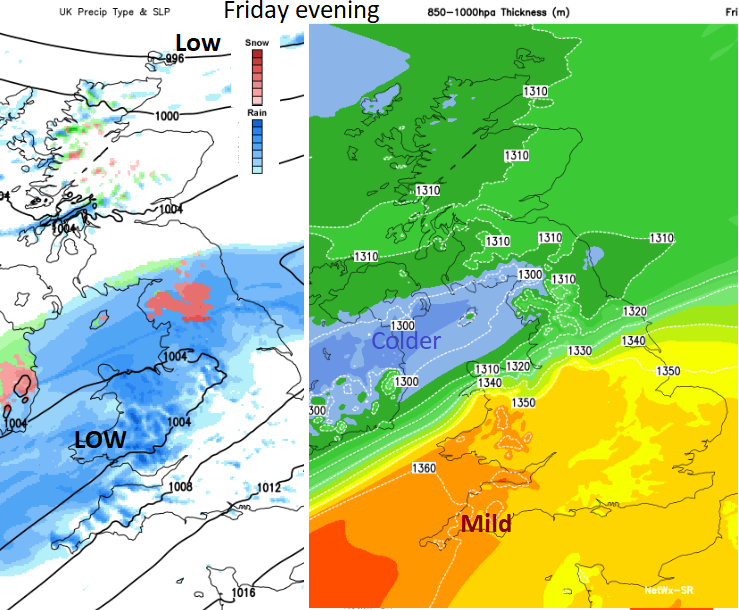 As the strong winds clear away from SE England overnight, another bout of strong winds picks up for northern Scotland.
All of these strong winds and gales could affect ferry crossings with the heavy rain also likely to bring travel disruption. There are a lot of fallen leaves about and they quickly the block drains. For those trees still in leaf, their branches become heavier when soaked and so are prone to breaking in strong winds
Saturday
There are some differences in timings about when the band of rain stretched across Britain will clear away southeastwards. It could still be raining over England on Saturday, the current Rain warning continues all day, or there will be a quicker improvement as the rain clears. NE Scotland still looks very windy with blustery winds for many. -Clocks change-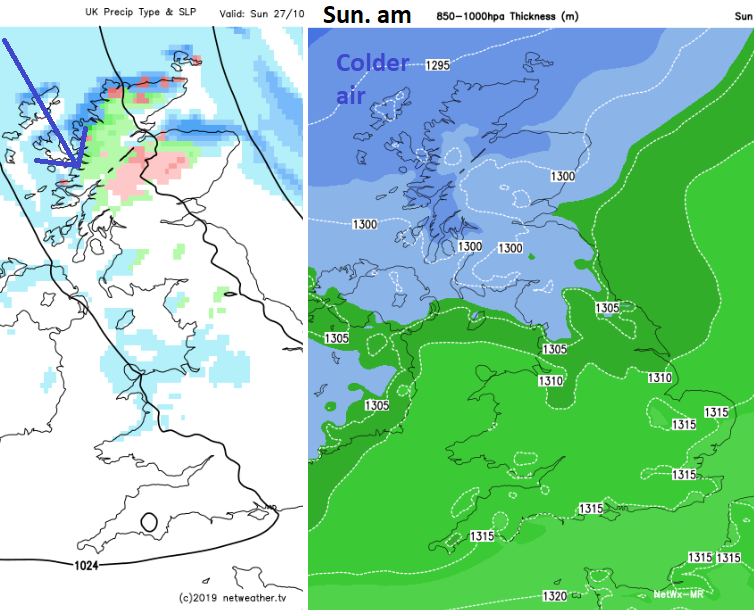 Sunday
A drier outlook for England and Wales but as the low pressure heads away, there is a pull of cold N to NW winds and temperatures fall. There will be snow showers for the Scottish mountains in the north and a chill everywhere, quite a change for the new week. So, if your half term is the last week in October it will have a colder start, perhaps with a frost.