After a cloudy day on Monday, southern England saw some glorious autumn blue skies on Tuesday and it felt warm in the sun. However, further north, it was a different story, with fairly extensive cloud streaming in on southwesterly winds. If you managed to enjoy the drier and sunnier respite on offer for some the last few days, I'm afraid the weather is going downhill for all for the rest of the week, as high pressure across the south retreats to allow low pressure with frontal systems to return. Outbreaks of rain or showers will return to the north and northwest today and tomorrow and becoming increasingly windy here too. On Friday, a deepening area of low pressure moving across England and Wales could bring heavy rain and risk of some rain to some areas. Then by early next week it looks to turn colder but thankfully drier.
Back to this morning, Scotland and Northern Ireland remained mostly cloudy and breezy overnight, with wet and windy conditions moving in across northwest Scotland, so temperatures holding up as a result. However, much of England and Wales, clear spells and light winds have meant temperatures have plummeted overnight, bringing a cold start to the day, cold enough for a touch of frost in more rural areas and there are some fog patches to watch out for on the morning commute.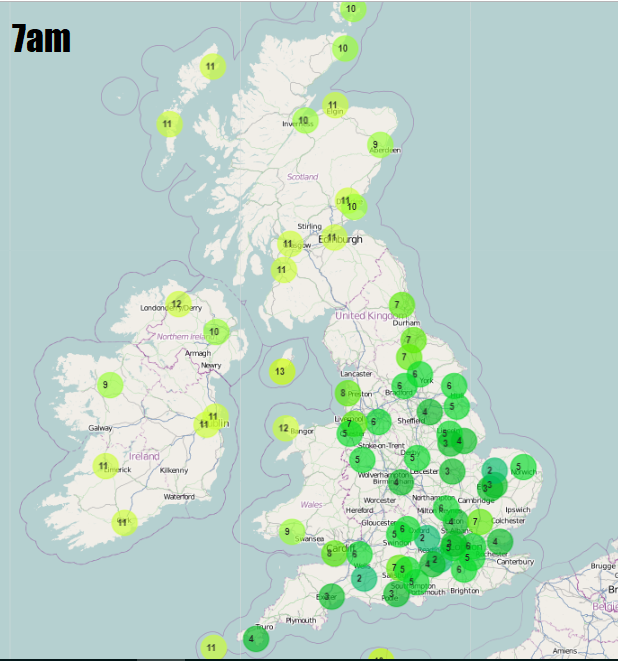 So a dry and sunny morning for many across England and Wales after a chilly start, with mist and fog patches tending to lift, however cloudier skies and some showers will spread in across SE England. A mostly cloudy and breezy commute across Scotland and Northern Ireland, with a few bursts of rain here and there, windy with more persistent rain across NW Scotland.

Staying mostly dry with sunny spells across much of England and Wales for the rest of the day, thicker cloud spreading up across southeastern England, reaching the Midlands, East Anglia and perhaps Lincolnshire will bring a few showers. Staying rather cloudy and windy across Scotland and N. Ireland, with rain becoming more extensive towards the north and west of Scotland aswell as for N. Ireland, gales possible in the far northwest. Temperatures reaching 11-14C generally, perhaps 15C in the southeast.
Band of cloud and rain along a cold front spreading in across the northwest today will extend eastward across much of Scotland, northern England, Wales and eventually SW England tonight. While further east it will be increasingly cloudy with showery outbreaks of rain in a corridor from Dorset up to Lincolnshire and further east. Otherwise dry with clear spells across central areas. Generally milder than last night and frost-free with more in the way of cloud and breeze.