Tuesday then brings a north-south split. It'll be windy with more cloud in the north, along with some patchy rain affecting the far north and northwest at times. Further south, after a chilly start, there'll be plenty of sunshine, with just a light southwest breeze.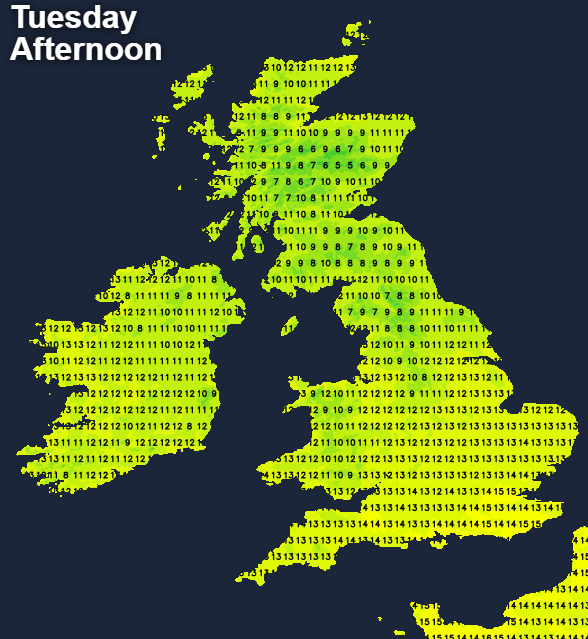 Overnight, the rain in the northwest looks set to gather itself and become more persistent and heavy, with winds strengthening at the same time. It'll be another chilly night with some fog and frost further south though.
From midweek onwards, the forecast becomes ever more tricky. The theme, to start at least, will be a continuation of the north-south split - with more rain and still gusty winds affecting the north and especially northwest of the UK along with Ireland into Wednesday. Elsewhere, more dry, bright or sunny weather is likely. But there is the possibility of a front nudging up from the south, bringing more cloud and some showery rain with it. The question mark is how far north it'll get, with some models taking it right through into central regions; others only have it scraping the south coast.
By Thursday, the rain and showers in the northwest are likely to make a move further southeast. Ahead of it, there will also still be the threat of some showers in the southeast of England, but with sunny spells in between. Eventually, the two more showery zones are likely to meet, albeit with just a scattering of showers expected by this point.
Friday keeps the sun and showers idea going, with the showers mostly in the north and west of the country again, as the remainder stays drier and brighter. But then into next weekend, there is the threat of low pressure moving into the British Isles, which could bring a spell of wet and potentially very windy weather. But, and it's a big but at this point, confidence is very low.
(Photo today - Avon Gorge and Clifton suspension Bridge)