As the high slips eastwards towards Denmark, a large low pressure out in the Atlantic nudges our way. In between, it is windy, with fresh southerly winds and a pull of warm air from the south. Parts of the UK respond with temperature lifting into the mid 20sC, but others get the SE wind off the sea and stay cooler even with all the sunshine.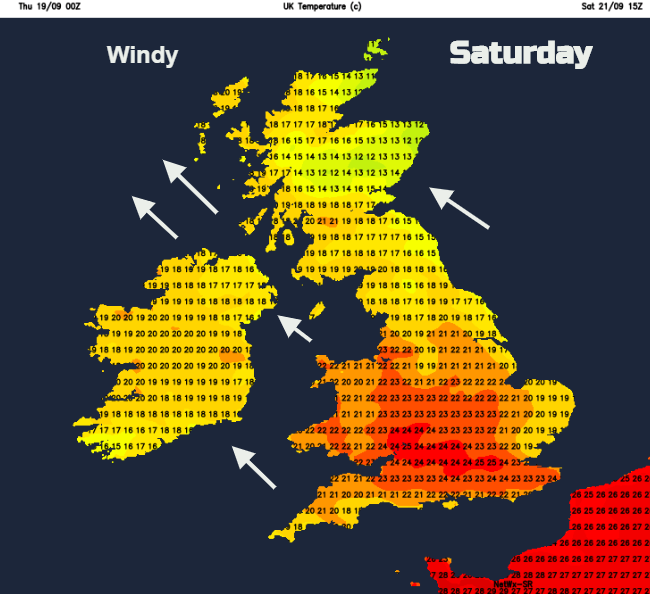 By Saturday evening a frontal band will be arriving from the west bringing more cloud and showery outbreaks of rain. The timing of these showers has varied over the past few runs of the model. Sometimes showers have appeared earlier in the afternoon into SW Britain, so something to just keep in mind if you do have Saturday plans. Some of these showers will be heavy with thundery and they continue eastwards overnight and will be around for Sunday.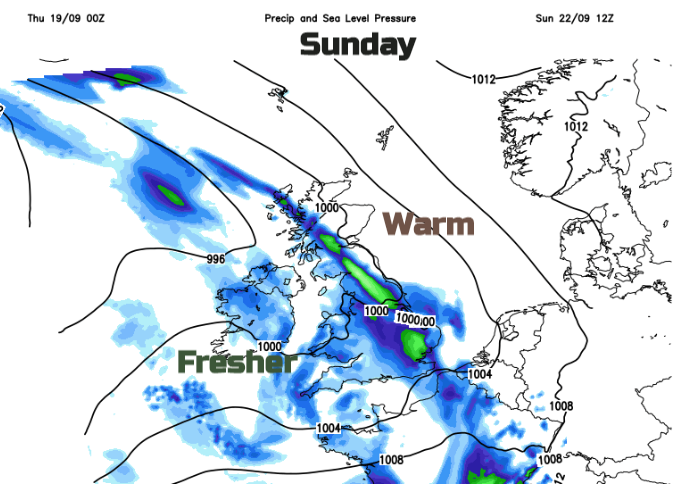 You might have noticed on previous images, way out west in the Atlantic is a bullseye low of a tropical storm. This was Hurricane Humberto which has just passed Bermuda. It's taken out a large portion of the islands power supply but is now moving away.
Next, Humberto continues NE across the Atlantic and will, in the end, add its energies into the flow over the UK. No longer as a hurricane or tropical storm, but there is still a low pressure to follow which just seems to settle to the west of the UK later on Monday through the middle of the week. This means windy weather for the UK and the likelihood of rain. It's more of a blustery theme with coastal gales at times but still quite a change from the next few days with the quiet sunshine currently on offer.