High pressure is well and truly in charge of our weather for the remainder of this week. So, there'll be more chilly, misty mornings followed by plenty of sunshine in the day. As the high starts to move east though, we'll start to draw in warmer air from the south, with temperatures pushing toward the mid-twenties by Saturday.
The problem is though, as the high gets further away, it'll invite low pressure to make a move our way. It'll bring showers into the west on Saturday, which'll become ever more widespread into Sunday. Another noticeable change as we end the week and head into the weekend will be the wind. It'll strengthen on Friday, blowing up from the southeast and will continue through Saturday. Into Sunday it may fall lighter for a time, before picking up again, this time from the southwest as low pressure nears.
Back to today, and once any misty patches clear, much of the country will enjoy long sunny spells, with virtually wall-to-wall sunshine in the south. There will be a bit more cloud from northern England northward though, and the north of Scotland will see some patchy rain moving through at times.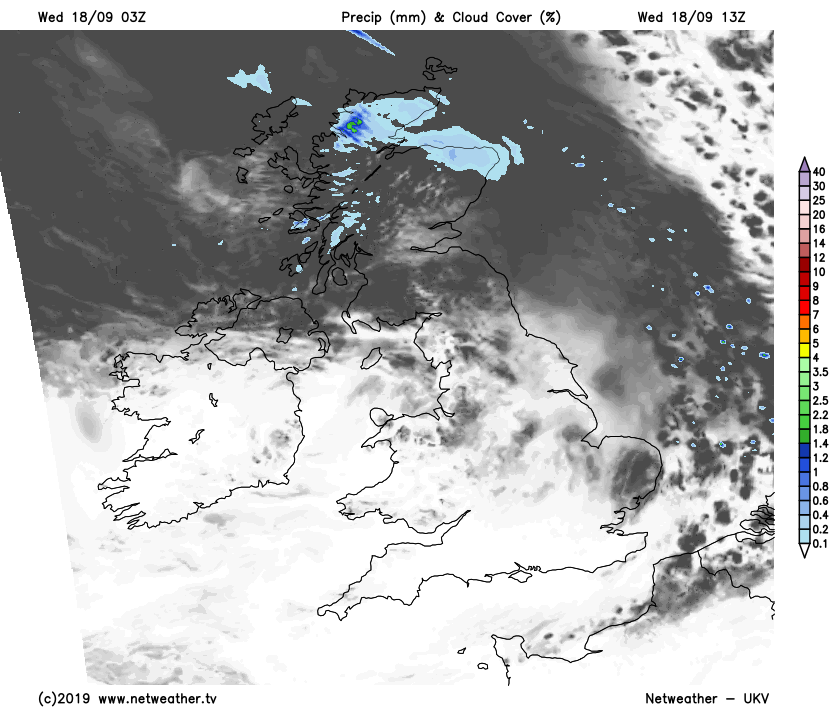 Temperatures will about be on a par with yesterday, so reaching the high teens or low twenties in England, Wales and Northern Ireland. It'll be a bit cooler in Scotland though with maxes reaching the low-mid teens typically.