Tonight
Into Saturday night, it will remain very windy across Scotland and N. Ireland, with gusts of 40-50mph, across the Northern Isles we could see gusts of 60-70mph. Outbreaks of rain will spread southeastwards across all of Scotland, N. Ireland and eventually arriving across northern England through the night but rain turning lighter, clearer but very windy conditions following across northern Scotland. To the south dry and mainly clear skies. Temperatures falling to 9-11C where skies clear, but where it's cloudy 11-14C.
Sunday
A band of cloud with patchy and mainly light rain will lie across southern Scotland, northern England, N. Ireland and perhaps north Wales to start Sunday. This is an east-west cold front stretching west across Ireland and out into the Atlantic, the front will be slow-moving and wriggle around, with pulses of more persistent and heavier rain spreading from the west across N. Ireland, southern Scotland and northern England into the afternoon. Cooler, fresher and brighter to the north of the central belt of Scotland, dry to the south of the band of rain across south Wales, Midlands, southern England and East Anglia, best of the sunshine towards the southeast, cloudier towards the west. Temperatures in the afternoon reaching 25C in London, 22C in Norwich, 21C in Manchester and Cardiff. But to the north of the cold front lying across northern England, cooler and fresher, with temperatures reaching 14-17C.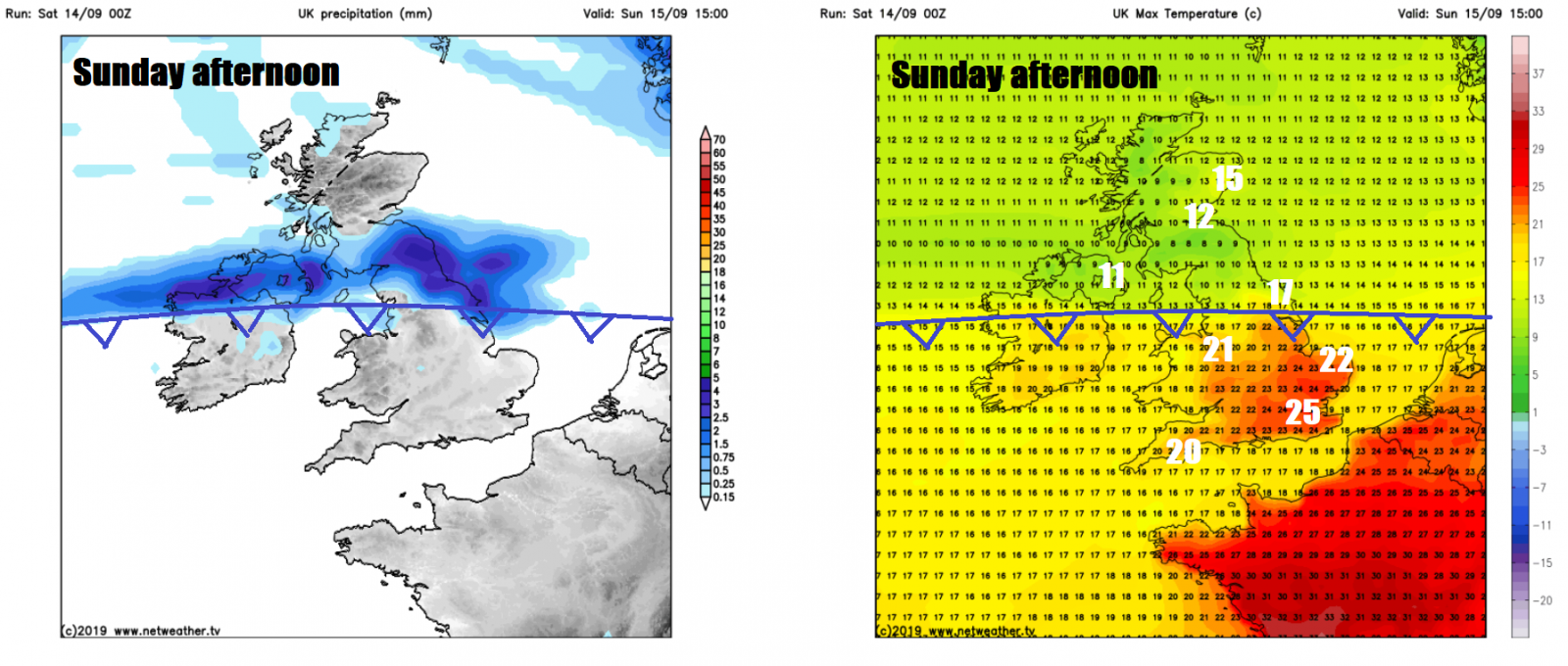 Next week
A weakening cold front will continue to slide south on Monday, clearing southern areas by the afternoon after perhaps a cloudy start, but nothing more than patchy drizzle before it clears. Sunnier but cooler fresher conditions across northern and central areas in the morning spreading down across all parts into the afternoon with a northwesterly breeze, temperatures reaching 19-21C in the south, 15-18C in the north.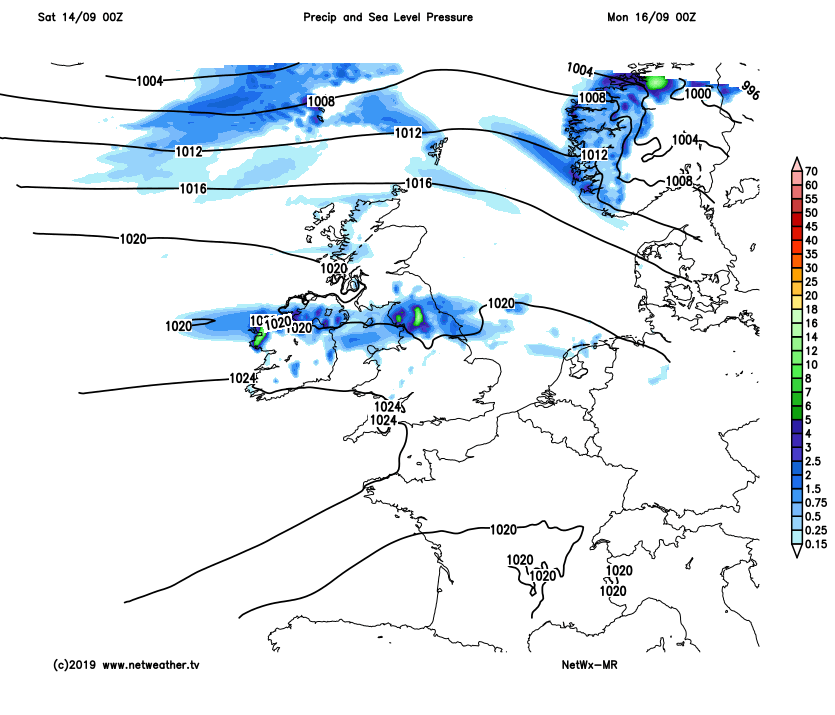 High pressure will build in from the west from Tuesday and sit across the UK for much of the week before retreating east by the weekend. So for most it will be a dry and fine week with sunshine by day. Some chilly nights at first with light winds, clear skies and longer nights, but turning a little warmer towards the end of the week, as high pressure shifts easts and a milder southerly flow picks up.