We have big weather changes after the heat of the long weekend. Greater London has seen just over 33C for three days in a row but will be closer to 18C by the end of the weekend with a fresher flow everywhere and some blustery weather on the way.
As a line of showers came up against that heat on Tuesday, there were hefty downpours and thunderstorms set off. With lightning displays and hail, it was a dramatic change from the earlier sunshine. Today won't bring such convective action, there are not any warnings in place.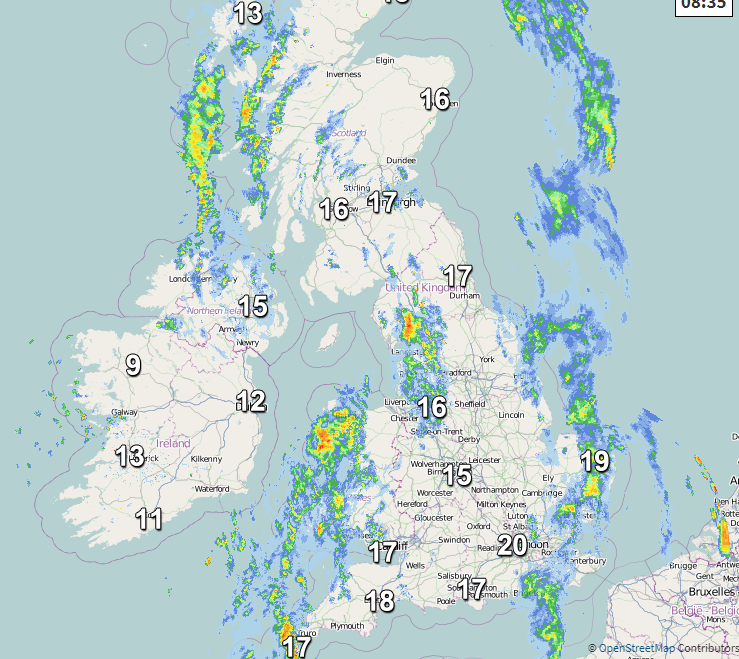 One line of showery rain will continue eastwards over East Anglia and SE England this morning, fading into the North Sea. Sunny spells then appear for SE Britain and temperatures will rise into the mid 20sC. Next up is a more distinct cold front already bringing heavy rain into NW England off the Irish Sea and trailing away to the SW.
This rain will move over Wales and SW England this morning reaching up to the Peak District. It then moves across the Midlands over the Humber but still linking back to the West Country this afternoon. Behind the front will be cooler, fresher air but still lots of sunshine as the cloud moves away from Ireland. Cloudy skies and a few showers transfer across northern Britain as the winds veer to the west.