Coming forty days after St Switihan (15th July), St Bartholomew (24th August) can often produce a late resurgence of summer. So with the August Bank Holiday weekend now in full swing, it prompts the question is the fine spell going to last? It certainly will for most today, that will see some of the highest temperatures of the current very warm period, before somewhat cooler, fresher conditions begin to move into the West of Northern Ireland and the far North West tomorrow. So with the promise of more glorious late summer weather to come, you'll undoubtedly need to keep 'slapping on' that sun cream.
Parts of the South West and the West of Wales will see some stubborn areas of mist and low cloud today that'll spread to the Isle of Man and perhaps parts of Dumfries. Apart from the odd rogue shower though, most places are set to have another beautiful day with lots of sunshine, occasionally made hazy by varying amounts of thin medium level cloud. Most areas will be dry, but the odd shower is possible in the West later, when cloud and some rain may begin to move into the Western Isles and parts of Highland.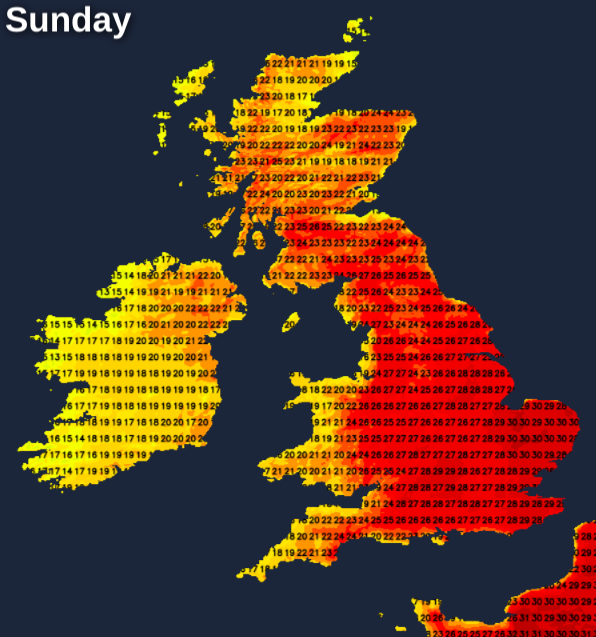 Winds will be mostly light between East and South, with temperatures reaching a very warm or hot 25 to 29C across much of England, Wales and Scotland to the East of The Great Glen. Over parts of East Anglia and the South East, the thermometer will reach a very hot 30 to 32C, while across Northern Ireland and North West Scotland 18 to 24C will be nearer the mark, with afternoon sea breezes keeping some coastal areas refreshingly cooler.
The far North West of Scotland together with Tyrone and Fermanagh see some showers after dark. Elsewhere apart from a rogue sharp shower mostly across Wales and the West Country, it'll be another warm, summery evening that'll be ideal for a Bank Holiday barbecue. A dry, largely clear night will follow, and with light winds, a few mist or fog patches will form in rural areas towards dawn. Many western coasts, however, may continue to be plagued by mist and very low cloud. It'll be a somewhat humid night, especially over England and Wales, when temperatures generally shouldn't fall below 12 to 16C.