There will be some rain around across the north and west today, but the general theme as we end the week and head through the Bank Holiday Weekend, is one of warming up and drying up as high pressure builds. Across southern and eastern areas it will become hot over the long weekend, with temperatures perhaps hitting 30-32C, so the alltime highest temperature for the late August Bank Holiday Weekend of 31.5C recorded back in 2001 could be broken.
Today
For now, a frontal boundary lies across northern England, Wales and Ireland this morning bringing a broad swathe of cloudier skies and some rain. The rain generally light and patchy across Wales and mostly over the hills. While a band of more persistent and heavier rain lies across the far north of England and over Ireland and the southern part of N. Ireland for the morning commute. Some scattered showers to north across western Scotland, mostly dry and sunny across southern England and East Anglia.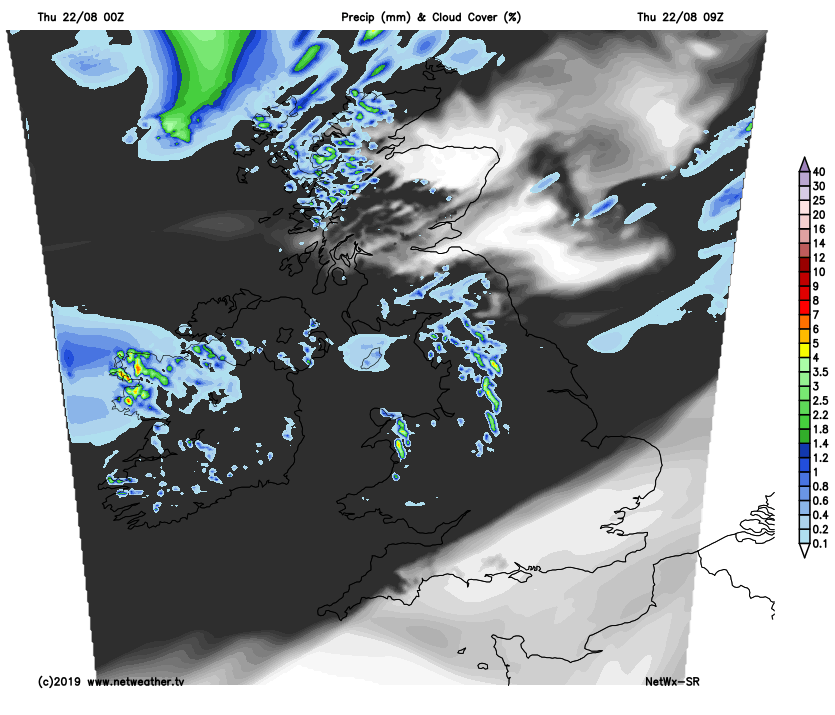 The frontal boundary will gradually lift north through the day, so rain will ease and become more showery across northern England, though longer spells possible across Cumbria, while showers across Wales ease to drier and more brighter conditions this afternoon. A heavier pulse of rain looks to spread from the west across N. Ireland, southern and western Scotland along the front as it moves north this afternoon and into the evening. Southern England, The Midlands and East Anglia mostly dry and bright or sunny for much of the day. Temperatures this afternoon reaching 17-19C across Scotland, N. Ireland and the far west further south. Much of England inland and towards the east seeing temperatures reaching 22-24C.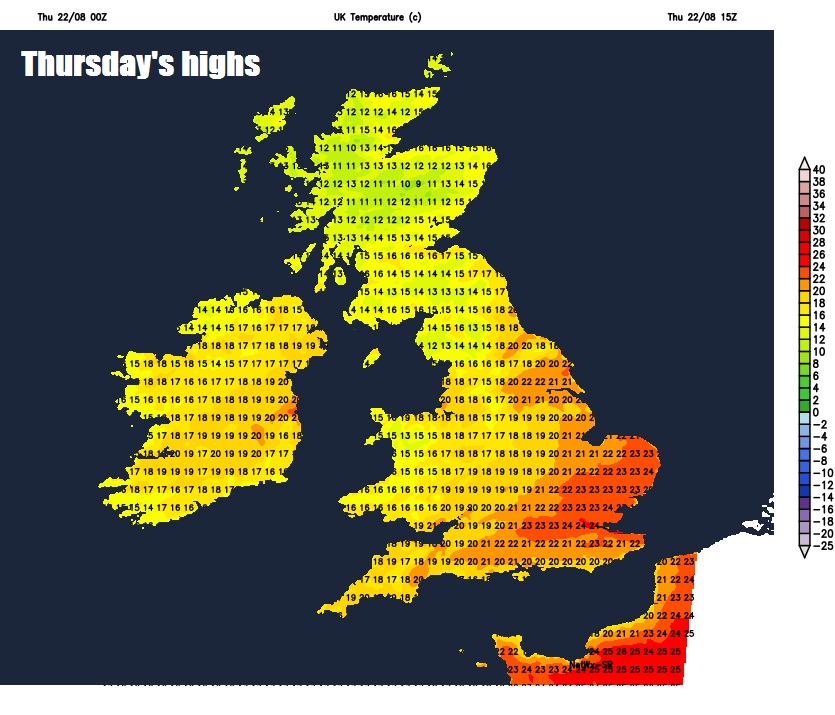 Tonight
Rain across Scotland and N. Ireland this evening will continue to spread north, rain becoming mostly confined to western Scotland – where it will be heavy and persistent overnight, bringing some high rainfall totals over western slopes. Further south, much of England and east Wales will stay dry with clear spells, thicker cloud over west Wales may bring some patchy drizzle. A mild night, temperatures falling no lower than 12-15C.