Air Quality issues at the weekend as high pressure takes hold. Weed Pollen season brings moderate levels
Today
You can already see the rain from the Atlantic low on the Netweather Radar, out west. This rain will move over Northern Ireland by lunchtime, also over the west coast of Scotland. The rain band does make quite slow progress today reaching the Isle of Man and more of Scotland by teatime, just into Cumbria too. The southerly winds pickup with the rain and there will be gales and gusts of 50-60mph for the Western Isles at lunchtime. Across most of England and Wales and eastern Scotland the weather will be fine and bright with sunshine and more of a breeze later in the day.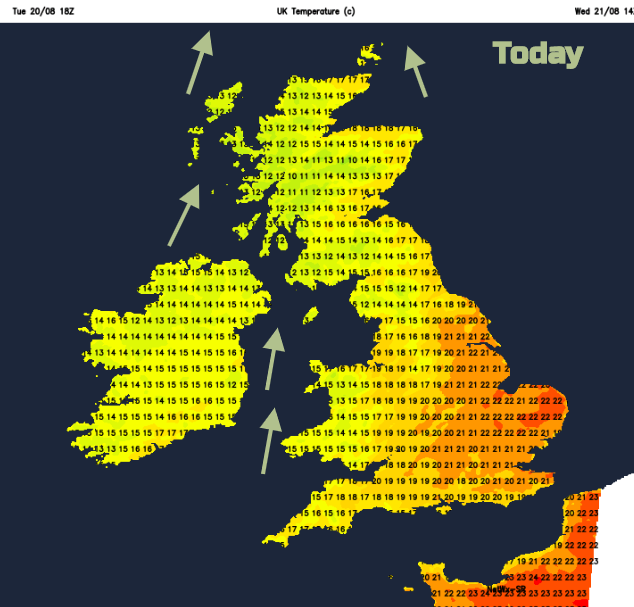 Overnight the frontal rain moves over NW England and NW Wales, with clear spells appearing to the north. As frontal bands and low pressure move past NW Scotland, there will be SW winds, light for southern England but fresh to strong in the north. SE England will have a lovely day with sunshine and temperatures into the mid 20sC. There will be more cloud elsewhere with patchy rain for areas exposed to the flow from the west. Scotland will be in cooler air on Thursday, but a warm front will bring rain to Northern Ireland and then temperatures will lift later in the afternoon inside the warm sector. Thursday night will be mild but still blustery in the north.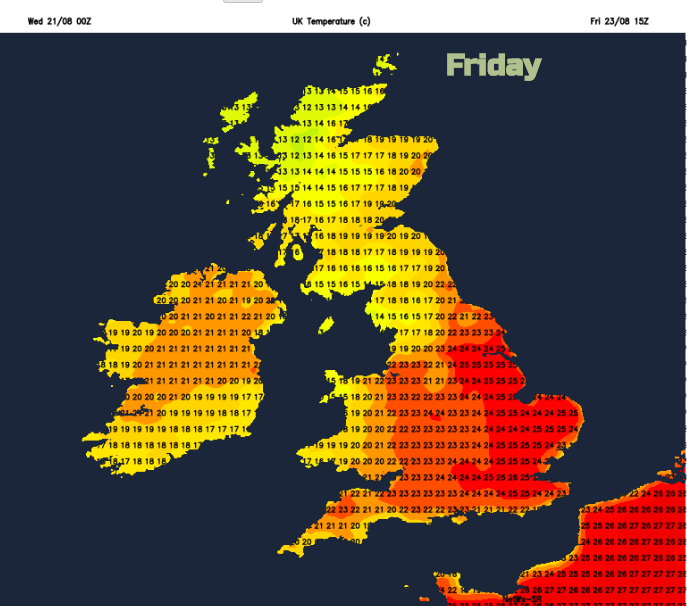 By Friday high pressure is building over the UK. Frontal bands still linger over the far NW of the UK, bringing rain to northern Scotland but for most of the UK there will be fine, weather with sunny spells and warmth. Temperatures of 20 to 27C although there could be fog for southern England to start the day.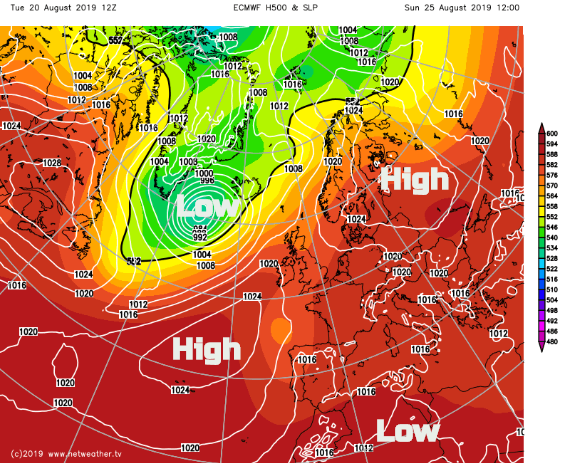 This feed of warm air from the south continues on Saturday with a bright or sunny, warm day for most of the UK. There is a weather front lurking to the NW which could still bring more cloud, patchy rain and blustery winds to the west coast of Scotland and western counties of Northern Ireland. It is likely that the fine, dry and very warm weather will continue through the long weekend but do keep an eye on the forecast over the next few days. (no Bank Holiday in Scotland this time).