The weather will continue to be changeable and on the cool side for August over the next few days, particularly towards the north and west, where there will be showers or longer spells of rain at times. It will even turn wet and windy across the northwest on Wednesday and stay windy with showers in north on Thursday, while high pressure builds in across the south, with much of England and Wales turning drier and warmer by the weekend. On Friday, we could see 26C reached in the southeast of England.
Today
Back to today, Tuesday should be a drier day for many and with lighter winds it should feel at little warmer too. For many it will be a mostly dry and sunny day after a fairly chilly start. However, a weather front draped across SW Scotland and far north of England, bringing a band of cloud and showery rain here this morning, with a few showers further south across Yorkshire too, will slowly drift eastwards across Scotland and northern England through the day, bringing showers eastwards, which will turn heavy, perhaps with thunder, towards eastern Scotland and NE England. Showery rain spreading across the Republic of Ireland through this morning will likely reach Northern Ireland later too.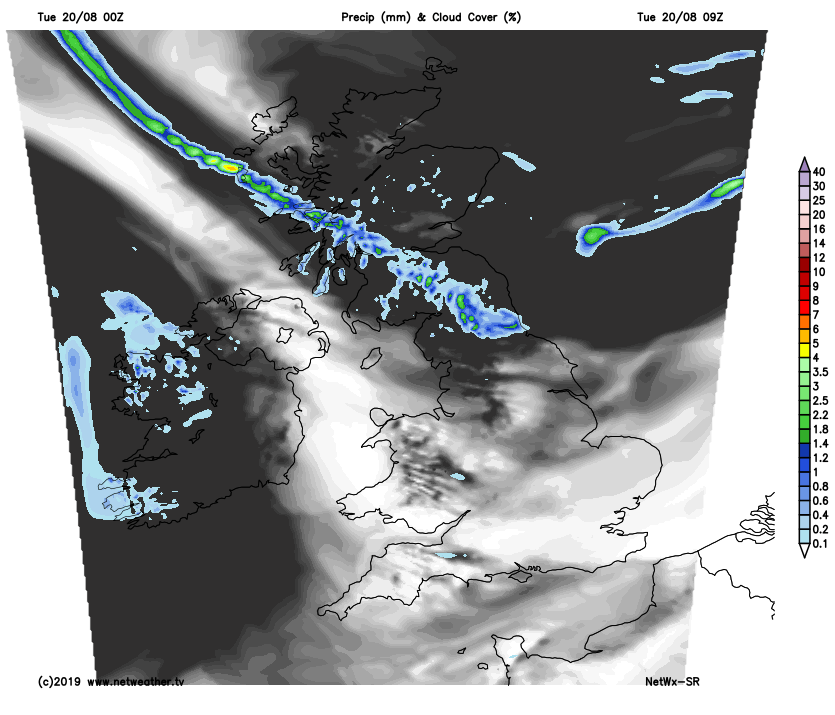 Temperatures this afternoon reaching 15-17C across Scotland, 17-19C across much of England and Wales, perhaps 20-21C across SE England & East Anglia. A few degrees lower than what we should expect at this time of year.