Much of central and eastern Britain will have a fine start on Wednesday, quite cool in the NE. However further west the backed winds will be picking up from the south and cloud and rain from a low pressure will move in. It's a slow process with rain still only over Northern Ireland, western Scotland, the Irish Sea into NW England and NW Wales by the afternoon. The frontal bands fade as they move over Britain during Wednesday night.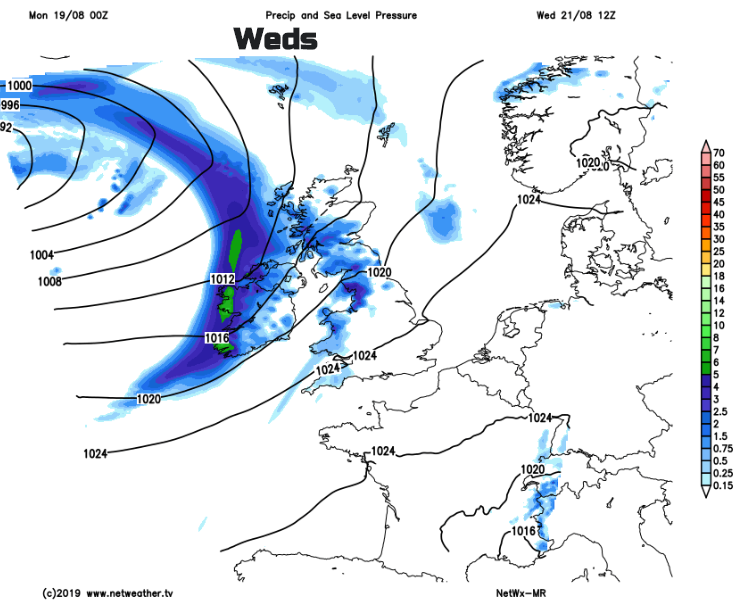 As the low centre gets nearer to NW Scotland on Thursday, there will be more rain and blustery winds, gales for western coasts, but again much of England and Wales, even eastern Scotland keep fair weather even sunshine. Drawn up ahead of this low will be warmer air from the south or SW. So, temperatures could rise into the mid 20sC for parts of SE Britain by Friday
A long weekend for some, a Bank Holiday forecast. Always causes forecasters to shudder. It's often not straight forward, there is a lot of extra pressure as people want to get out and about with the extra day off work, not stay in doing DIY. The tabloids always leap in with their extreme weather claims, whatever the forecast. A bank holiday weekend can only be hottest ever, scorcher, wash out, hurricane storm horror, the list continues.
There are signs that parts of the UK could see some fine, warm and sunny weather. This looks more likely for England and inland Wales, but the far NW of England joins Northern Ireland and Scotland with a higher risk of rain, more cloud and temperatures remaining in the high teens/ low 20sC. For the rest of England and Wales temperatures could reach into the mid to high twenties. However, there is still a lot of uncertainty with the weekend forecast. High pressure is trying to build up from the south but low pressures and weather fronts continue to interrupt from the NW.
Just read a headline "Britain to bake in three-week tropical heatwave". This is not a forecast, it's just silliness. There is a thread through the models that the high pressure could hold on over southern Britain keeping the settled conditions into next week but confidence is low. Also, that doesn't make a tropical heatwave. I think we'll stick with the long weekend for now and see if the signal for some warm sunshine steadies itself for at least some of the UK.