Tonight
Any showers generally dying out overnight to leave most northern and eastern areas dry with clear spells. Showers will spread northeast across the Republic of Ireland and Northern Ireland to affect coastal areas of NW England and western Scotland by the end of the night, while a low moving into the southwest approaches spreads outbreaks of rain northeast across the West Country, Wales, west Midlands and central southern England in the early hours.
Wednesday
A frontal system will continue to move eastwards across southern Britain tomorrow, spreading outbreaks of rain, locally heavy and persistent, east across much of England and Wales during the morning, though NE England probably staying dry. Brighter conditions with showers following from the west in the afternoon as the rain clears eastern England by the evening. Scotland and N. Ireland bright but with scattered showers before cloud thickens from the west bringing persistent and heavy rain to N. Ireland and western Scotland by the evening. A cool day, temperatures reaching 15-18C in the north, 18-19C in the south.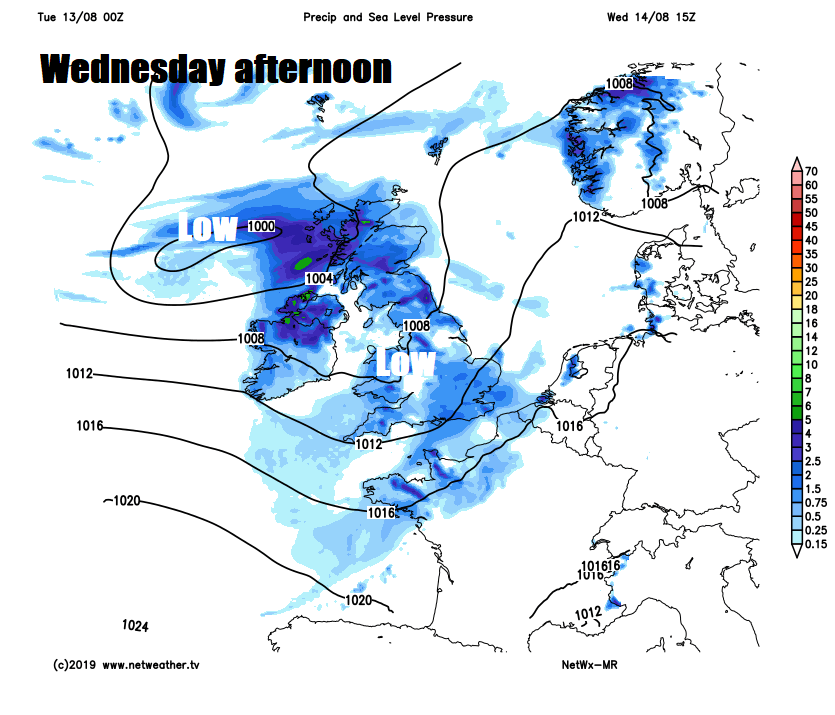 Thursday
A mostly dry day on Thursday, as a ridge of high pressure builds in, perhaps a cloudy start with a few showers at first in the east, but sunshine increasing from the west to bring a mostly dry and sunny afternoon. Temperatures ranging from 17C in the north to 22C in the south.
Friday
Persistent and heavy rain accompanied by gusty winds will spread northeast across northern and western areas Friday morning and remaining wet and windy through the afternoon, mostly dry morning across central, southern and eastern England before rain reaches here in the afternoon.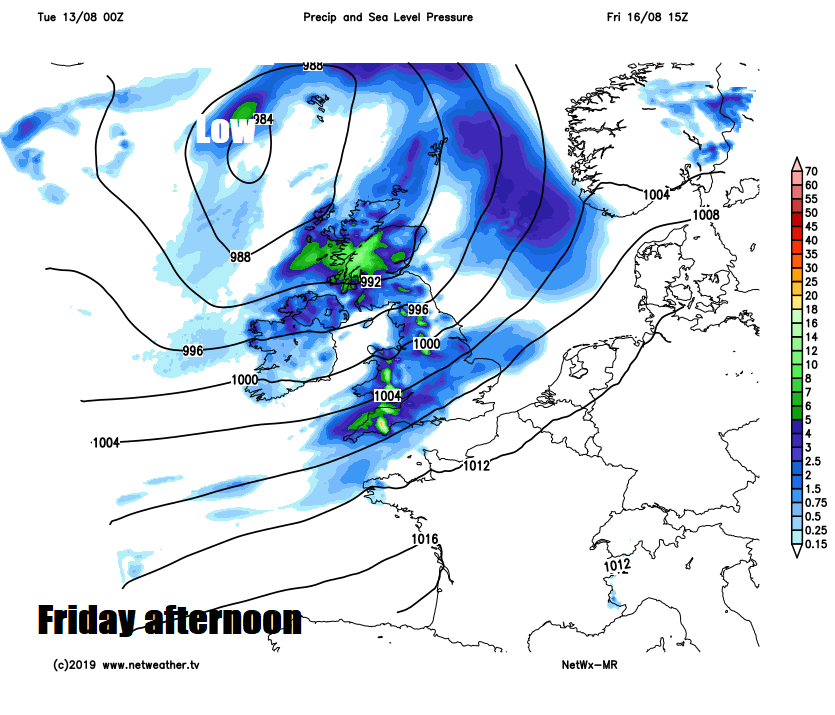 Weekend
Staying unsettled, cool and windy through the weekend, with a deep area of low pressure stuck close by to the north of the UK, driving showers or longer spells of rain across many areas, though there should be some drier and brighter interludes, particularly Sunday morning, before showers develop and spread from the west in the afternoon.