In a synoptic situation more akin to autumn, we'll remain under the influence of an unusually deep low for August throughout the weekend. It is currently moving out of Northern Ireland and will cross central and southern Scotland through the day, before ending up in the North Sea after dark.
This'll continue to bring showers and very blustery weather, with the strength of a South Westerly wind over England and Wales on the depressions southern flank causing concern. We have already had a gust to 76mph across the Isle of Wight, with currently warnings of 55 to 60mph gusts in exposed areas and 40 to 50mph even well inland. Track the latest top gusts here.
So for most today, it's a story of blustery showers, heavy in places with local thunder, accompanied by squally winds. There'll be damaging gusts, and with trees in full leaf, you'll need to beware at the very least of the possibility of falling branches. Sunny intervals are also expected, with the best of these in the South and over sheltered eastern areas where the showers will be more scattered. Close to the depression centre though over Scotland and the far North of England, winds will be lighter, making the showers slow-moving and more likely to be prolonged.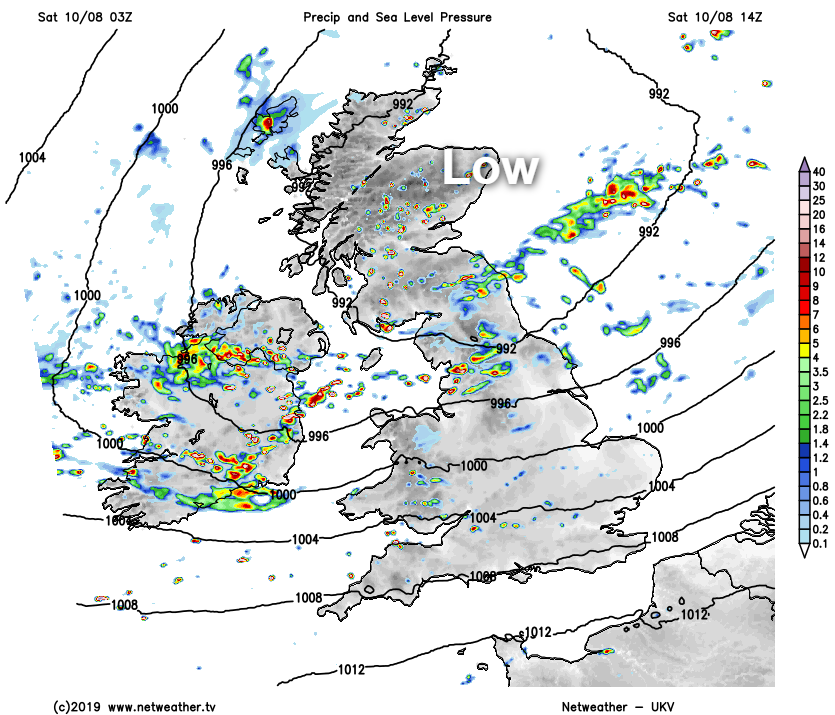 Although light at first, a North or North Westerly wind will soon freshen across Northern Ireland to become strong, with gusts over gale force expected in exposed areas and in quickly passing squally showers. Temperatures generally will be slightly down on yesterdays values, but despite the boisterous conditions, it'll still be quite warm over England and Wales where the thermometer should reach 19 to 23C. Across Northern Ireland and much of Scotland though it'll be cooler, with 15 to 18C more likely here.