There is some heat and increasing humidity on the way for some next week, we could see temperatures rise into the low thirties Celsius across southern England from Tuesday, before the heat perhaps relaxes by Friday, but some uncertainty on whether this happens, it may stay hot across parts of England. But before then, we will see increasingly unsettled conditions spread across the UK today and into the weekend, with outbreaks of rain for many, locally thundery. Though on Sunday it will tend to dry up as pressure builds, away from the northwest – where we will see further rain.
Today
For now, a low pressure system is moving in off the Atlantic today and will spread outbreaks of rain across Ireland along with much of England and Wales this morning. Some of this rain will turn thundery across Ireland, parts of Wales, SW and NW England too this morning, with some torrential downpours bringing some tricky driving conditions and a risk of localised flooding here. Further east, the rain not quite so heavy, but a grey and rather damp morning nonetheless. Across Scotland and N. Ireland it's a drier and brighter picture this morning, with some sunshine, though there are a few showers affecting western Scotland.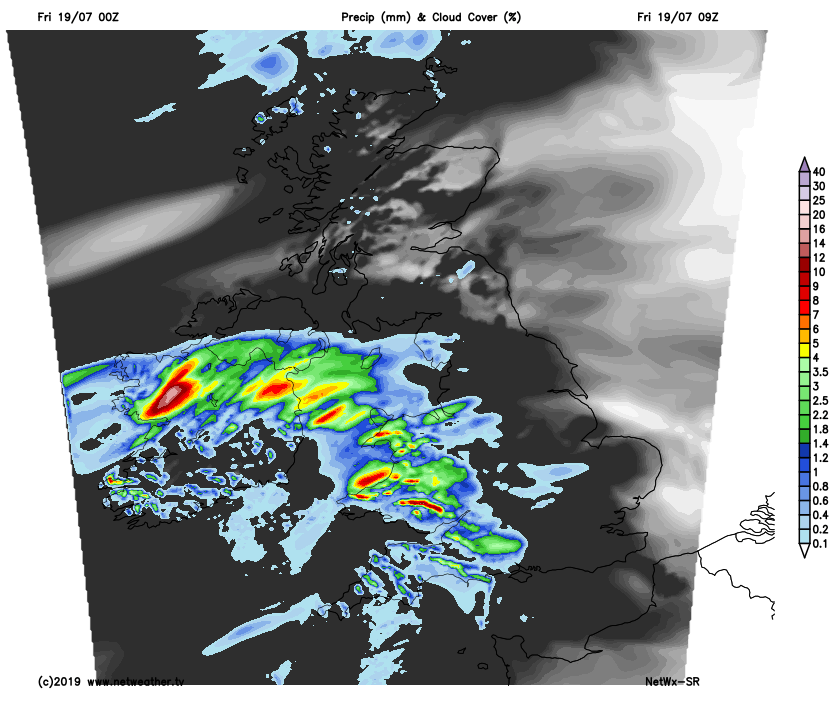 An arc of rain, locally heavy and thundery, will continue to spread north and east across England this afternoon, becoming confined to northern England while spreading across N. Ireland and southern Scotland. Following the rain, brighter skies with some sunny spells breaking through, but building warmth and humidity in the sunshine will trigger some scattered heavy showers and thunderstorms across Wales and to the south of northern England – where rain will linger. Drier and brighter with a few showers across northern Scotland.
Temperatures to the north of the rain band across northern England reaching 17-19C, to the south reaching 20-21C.
Tonight
Outbreaks of thundery rain lingering into the evening and overnight across southern and eastern Scotland, N. Ireland along with parts of northern England and Wales – with a risk of some quite intense downpours locally, accompanied by thunder and lightning. To the south, daytime showers or storms easing and fading to a mostly dry night with clear spells across east Wales and central parts of England, but across parts of southern and southeastern England along with East Anglia – we could see some intense thundery downpours push up from the southwest in the early hours of the morning. A mild night everywhere, warm in the south – where temperatures may fall no lower than 16-17C.