The weather's on the change now to a more unsettled type, as pressure continues to leak away slowly. This'll allow frontal systems already affecting Northern Ireland and the North and West of Scotland to eventually bring showers to most parts over the next few days. With today seeing that transition taking place. Before we get there though, we have another largely fine day to enjoy in central and eastern parts.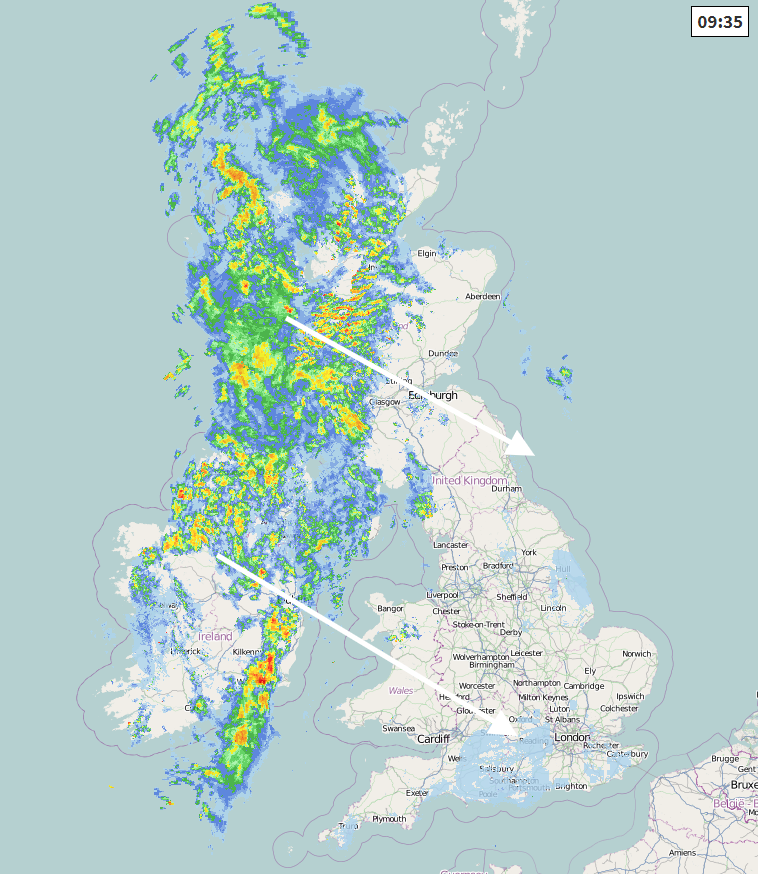 The very light rain showing in the south and east on this image is anaprop or false radar echoes, which can sometimes occur under high pressure. Click here to view the live radar.
Early mist in some rural areas has already gone, leaving much of the West Country, Midlands and the East and South with a fine, dry morning. There'll be spells of sunshine, but high cloud will make this rather hazy, with cloud amounts steadily increasing through the day. The afternoon will still be bright and mainly dry, but like yesterday a few locally sharp showers will develop, possibly giving thunder. Although not everywhere will see them.
Over West Scotland and Northern Ireland, frontal systems are already giving rain heavy in places. It'll clear from the West across Northern Ireland, to leave just scattered showers across the province by late afternoon. After a dry, bright start over Wales, North West England and the East of Scotland cloud will soon increase, with showery bursts of rain locally heavy moving in from the West by or through the afternoon.
It'll become very warm and humid in the East and South, where temperatures will reach 22 to 25C perhaps 26 or 27C where it stays brightest the longest. In the wetter North and West however 15 to 20C will be nearer the mark. Light winds in central and eastern areas at first will become mostly moderate locally fresh southerly, before 'veering' South West or West across Northern Ireland through the afternoon.