The summer holidays are on the way, so it stands to reason that the weather is taking a turn for the worse this week. Today, we're still mostly dry with some very warm sunshine, but rain will be spreading in from the west tomorrow. That leads us into an unsettled period, with wet and windy weather arriving Friday and into Saturday standing out at the moment.
Before we get to the forecast for the next few days, there's a partial (65%) lunar eclipse tonight, The peak will be at around 10:30, and for many, skies will be clear. So an excellent opportunity to view it.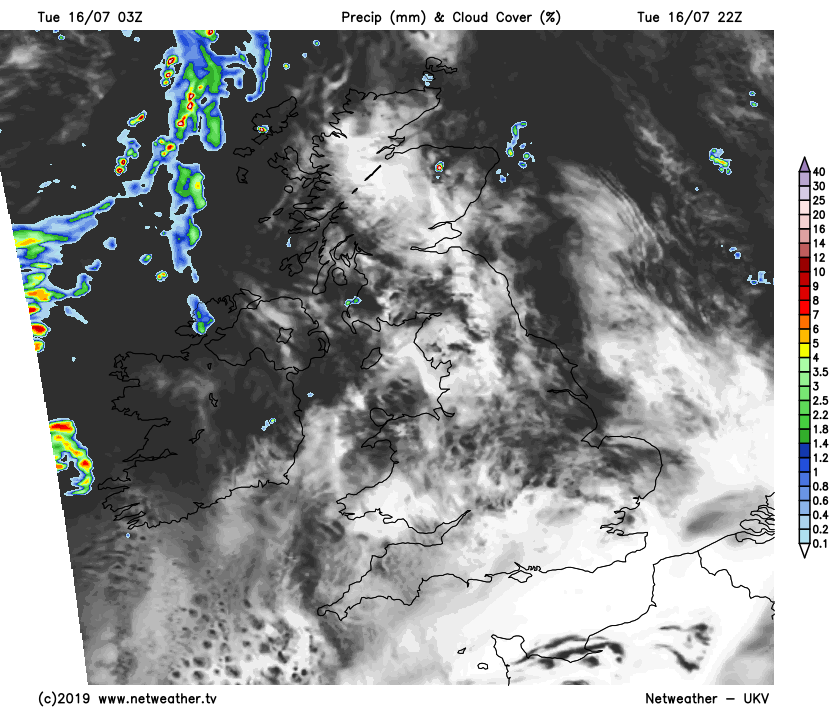 During the day today, there'll be some showers about - especially in the north and west, but also into Wales and the Midlands this afternoon. Elsewhere, with often sunny skies, temperatures will climb. Highs of 24-26c are likely in southern and central areas, 19-23c in eastern regions and 18-21c elsewhere. Western facing coastal counties of Northern Britain are likely to be coolest with more cloud.
Overnight, any showers will die out, but rain will be moving into Ireland, with some patchy outbreaks affecting western Scotland. Into tomorrow, the often showery rain will push its way southeast, introducing fresher, brighter weather behind it. Eastern parts of the country will start the day with some warm sunshine again. But the cloud and patchy rain will invade all the while, leaving the southeast most likely to stay dry until after dark.