Warmth and humidity built up during the week, making it feel sticky these last few days, especially when the sun came out. However, fresher conditions are spreading southeast this morning, so Friday won't feel as muggy as the last few days. Low pressure will slowly retreat east over the North Sea today, meaning further showers will develop across eastern areas, but high pressure will build across the west keeping it mostly dry here. High pressure out west will build in across northern Britain over the weekend, bringing dry, sunny and settled conditions for many, though there is a risk of a few showers developing across central parts on Saturday.
Today
For now, Friday has started mostly dry with some areas of cloud in places, which is producing a few showers towards eastern coasts, while some are enjoying some sunshine for the morning commute. Fresher conditions are spreading southeast across much of Britain this morning, but southern counties of England still hang on to warm and humid conditions for now, with temperatures already 18C in a few spots at 6am.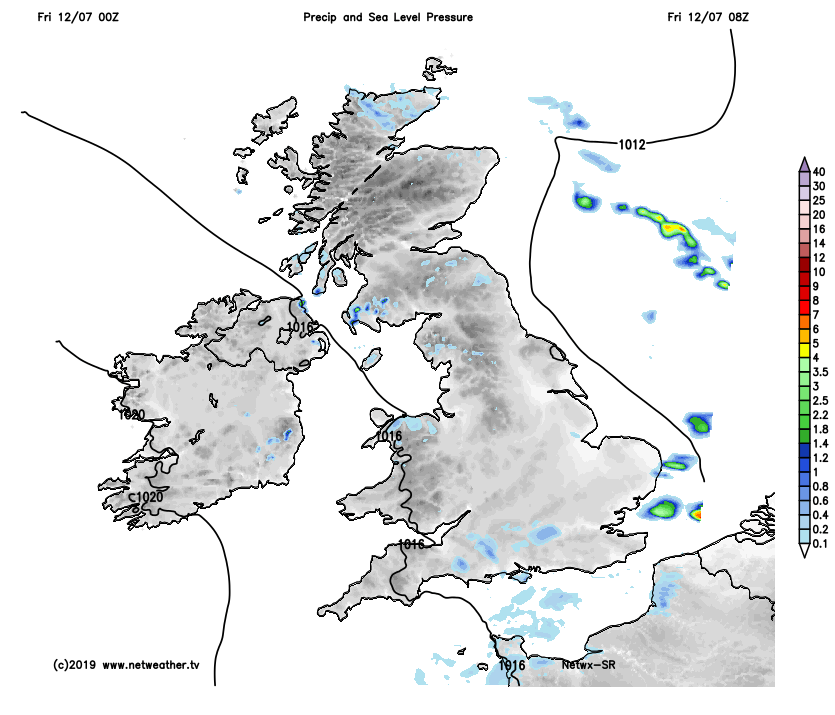 The general story for today will be plenty of dry weather with decent sunny spells developing across the bulk of England, Wales and southern Scotland, however, cloud will bubble up across SE Scotland and eastern England to bring some scattered heavy showers and a few thunderstorms, but many places here staying dry. Cloudier skies for northern Scotland and N. Ireland, thick enough to bring a few light showers.