Temperatures today will be warmest where the sun can come up for longest, and that's going to be in southern, central and eastern parts where highs into the mid-twenties are likely. Elsewhere, unless you're under the rain, it'll still feel warm and muggy, but maxes of the high-teens or low-twenties are more likely.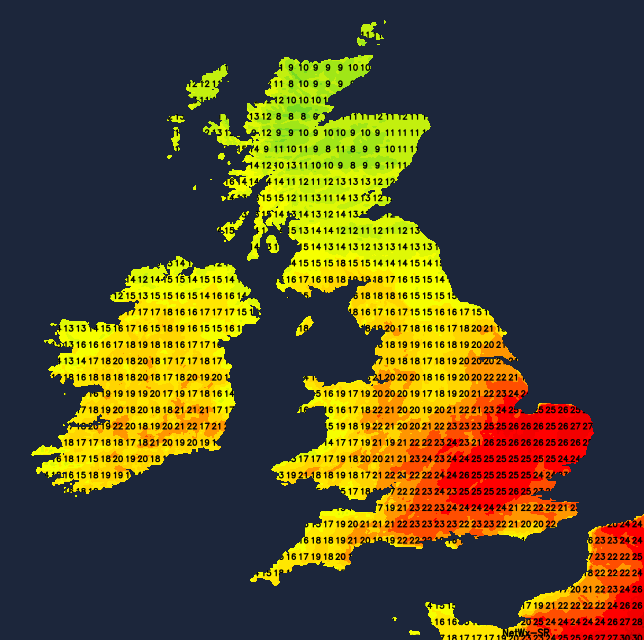 Overnight tonight, the storms and heavy rain moving up from the channel across the south will continue to move north and east. At the same time, the wet weather in Scotland will become confined to the far north.
Tuesday then sees the thundery rain slowly clearing away from eastern and northeast England. That'll leave much of the country with similarly warm, muggy weather. There'll be a fair bit of cloud about, especially in the east, where some drizzly bits of rain are possible. Best of the sunshine will be in southern parts, which is where the warmest temperatures of 23-27c are likely to be. Other parts of the country will be similar to today at 17-22c.
The downside of the higher temperatures in the south may be that some further downpours and storms develop though, but these will be quite few and far between.
Where did the heatwave go?
For the time being the hotter air which was forecast to move up over the country early this week is going to flirt with the south and southeast but mainly stay over the continent. From midweek onwards it does look set to have another go, so temperatures will start to jump up into the mid-high twenties, perhaps low-thirties by the weekend. There is a caveat to that too though, with eastern coastal counties likely to stay cooler as an onshore breeze brings some low cloud and chillier temperatures here. It also means it's sheltered western parts likely to see the highest temperatures, at least up to the weekend until that easterly flow slackens.
From midweek onward, the shower and storm risk also lessens, leaving most parts dry through until Friday or Saturday. At that point, the threat of some thundery rain is likely to come back.