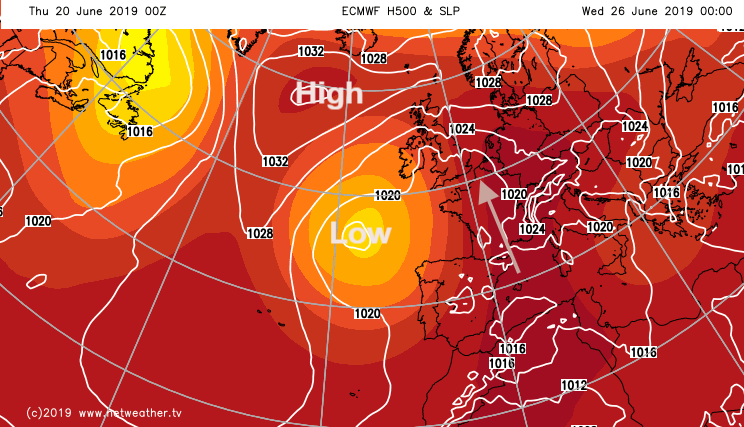 Already there has been high or very high pollen values. The Grass pollen season is well underway. This continues during the weekend in the warmth and sunshine.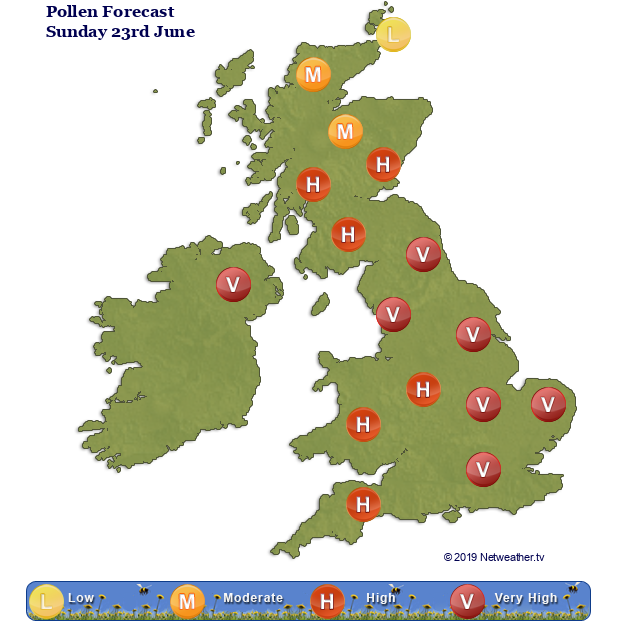 Weekend weather
Saturday starts off calm, maybe even a little fog about, then the winds turn to the SE. High pressure slips to the east and low pressure appears to the west with warmer air beginning to arrive from France. Saturday looks mostly dry just a few showers for Scotland, the odd one for Northern Ireland. Temperatures of 17 to 22C.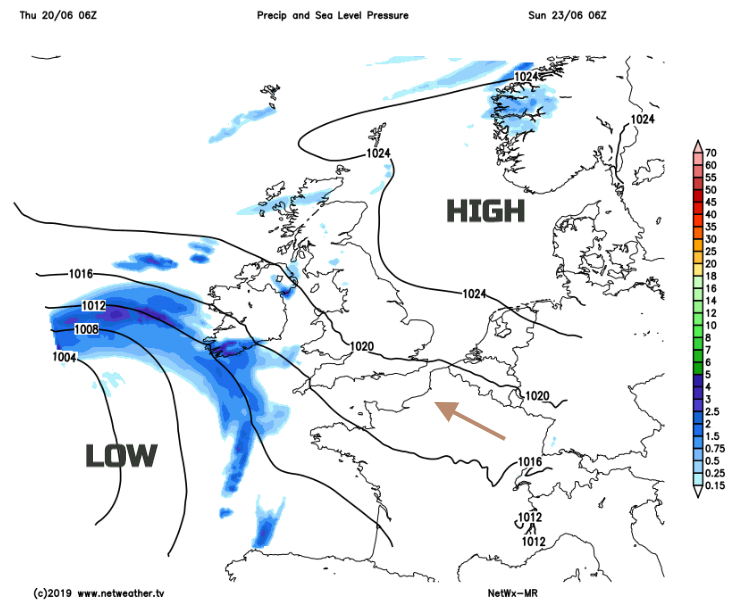 Sunday sees more showers for NW Scotland and a band of showers edging in from the SW over Ireland and SW Britain. At the same time, warmer, more humid air pumps up from the SE. There will be an easterly breeze so you know what that means along North Sea coasts, but for many it will be a warm day with temperatures in the high teens or low to mid 20sC. This combination could set off thunderstorms. Southern Britain could stay around 17 or 18C overnight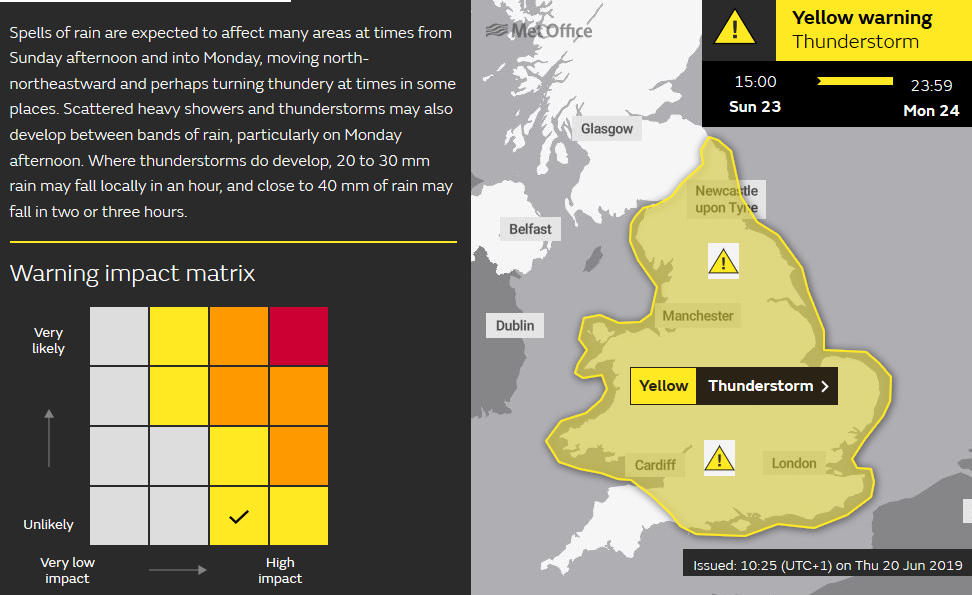 There is already a Met Office yellow warning for Thunderstorms issued, running from Sunday afternoon and throughout Monday. It is across most of England and Wales. I don't think it definitely stops at the border with Scotland, that maybe more to do with flood information from the agencies. The risk of downpours could extend into Northern Ireland, especially Co. Down and southern Scotland on Monday too.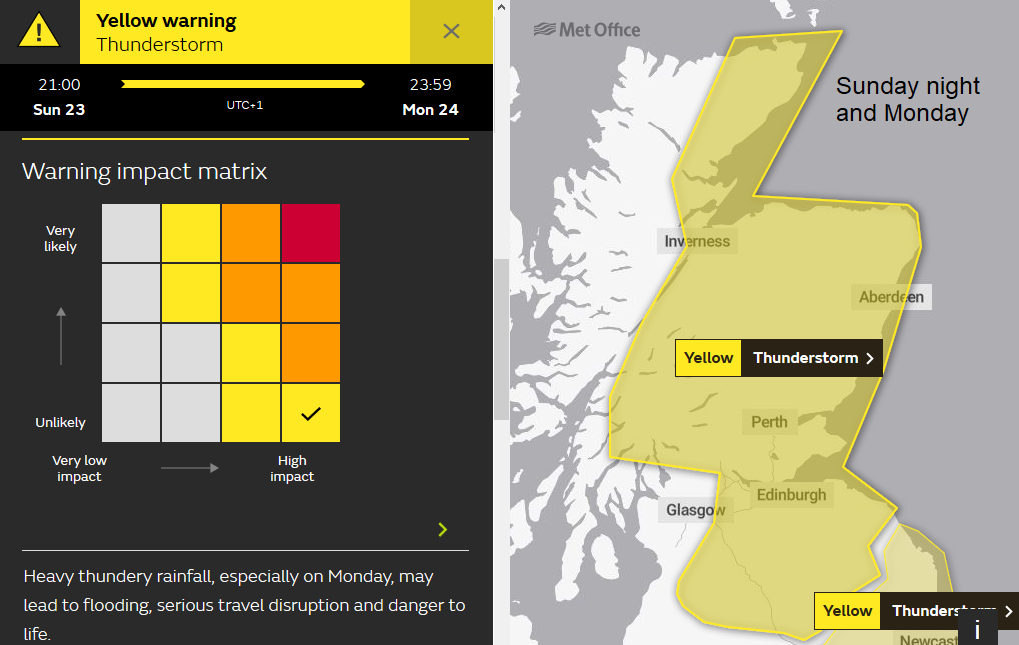 There is uncertainty around this forecast. This kind of plume could be slightly east or west so different areas get a soaking. Currently, SE Britain looks dry and hot, the actual temps will depend on breaks in the cloud cover, allowing more sunshine and so values to rocket.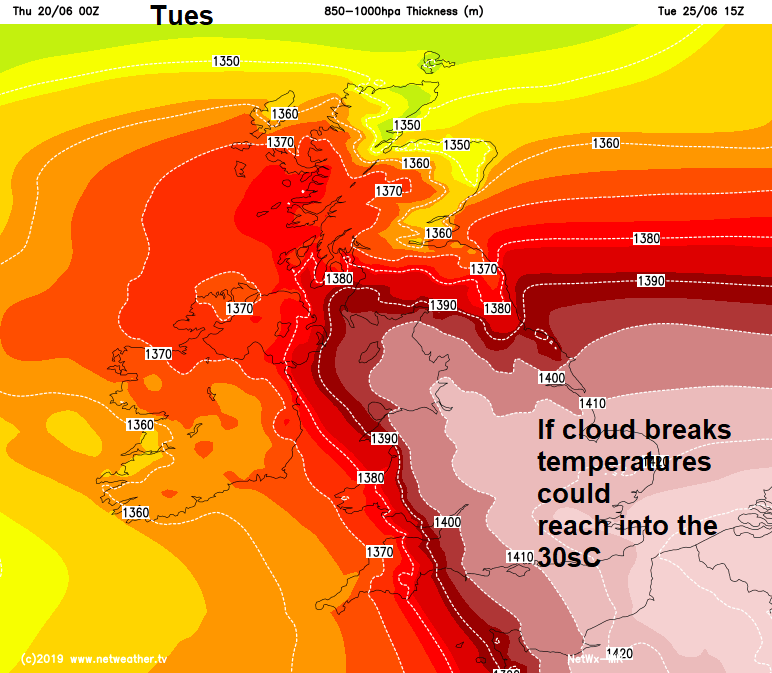 As the low pressure swirls in from the west, with its fronts, there will be a lot of cloud around and brisk winds. These will affect the temperatures too. The fresh east winds spread over Scotland later on Monday, falling light further south leaving a muggy night before the heat could really build on Tuesday and temperatures may reach into the 30sC. The June record is 35.6C from 1976.
So after a more settled weekend with plenty of fair weather and sunshine, early next week brings the potential for heavy thundery downpours (not for everyone) and some real heat and humidity.