GFS Operational Run [12Hz - Tuesday 18 June]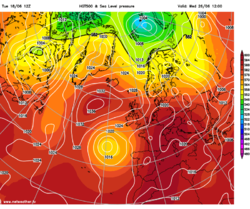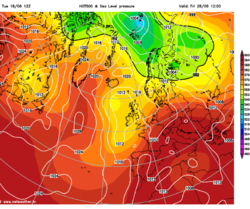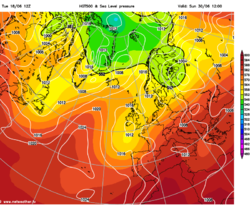 In the run up to the festival next week, there is expected to be High Pressure centred to the North of Scotland (1032mb), with Easterly winds for southern parts of the UK.
Wednesday is set to see Low Pressure edging in from the South / South West bring the risk of some showery rain which may be heavy. Winds should be Easterly bringing some very warm 850Hpa possibly as high as 20c. Temperatures low to mid 20s.
Thursday sees Low Pressure to the South West of the UK but currently looking mostly dry over the UK with Easterly winds over Southern UK, temperatures likely in the low 20s.
Friday sees weak Low Pressure over the UK centred over Ireland, with some weak showers again possible over southern UK, Temperatures high teens / Low 20s.
The weekend looks rather unsettled with temperatures in the low 20s. At this stage, Saturday looks drier with more in the way of showers on Sunday.
ECM Operational Run [12Hz - Tuesday 18 June]
ECM seems a day ahead in the evolution with the chart for Tuesday next week very similar to the GFS Wednesday chart, it also hints at the potential warm 850HPa temps. But looking rather unsettled when the gates open.
Summary
Looking mostly unsettled over the Glastonbury festival with some precipitation likely, no washout but by no means perfect and with some rain at times before the festival starts some mud issues seem likely.