Much of northern England has stayed mostly dry and sunny or bright today, but further south, it's been a cloudy story so far today, with outbreaks of rain spreading north through the day. This is a forerunner to trouble brewing to the south, as an area of low pressure developing over northern France interacts with a plume of warm and humid air over the near continent – which will be the catalyst for some big storms moving in across southern England, parts of the Midlands and East Anglia later this evening and overnight. Strong storms accompanied by very heavy rain leading to flooding, frequent lightning, strong winds and hail are possible, especially towards SE England overnight.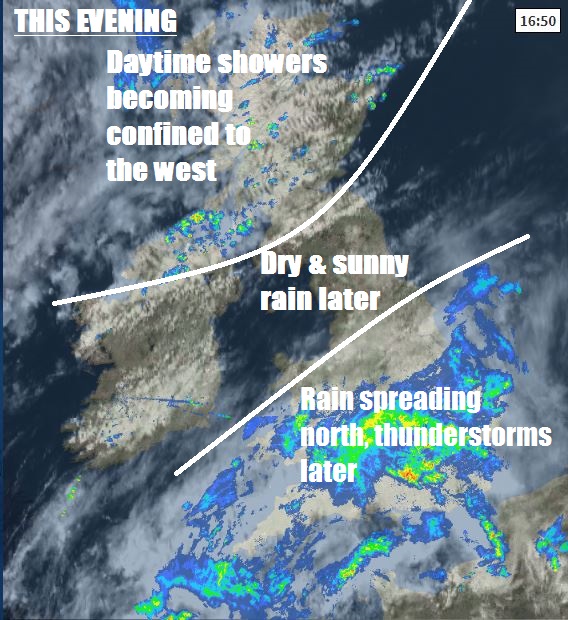 For now, mostly mid-level cloud continues to spill north across England and Wales, thickening and darkening to bring outbreaks of rain north across much of southern England, south Wales, Midlands across to East Anglia. This showery rain, perhaps thundery, will eventually reach across northern England too this evening, after a mostly dry and bright or sunny day. So becoming generally cloudy across much of England and Wales this evening, with nowhere immune to thundery bursts of rain through the evening. Later tonight, developing low pressure and fronts pushing north out of France will likely trigger more active convection leading to a wave of thunderstorms pushing northeast, mostly likely across SE England, some of these storms maybe strong, as mentioned above, with a risk of severe weather leading to some travel disruption from flooding and lightning.
The Met Office have a yellow warning out for Thunderstorms this evening, tonight and through Wednesday.
Further north across Scotland and Northern Ireland, it's been a day of bright or sunny spells, but also some scattered showers, particularly in the northwest. Showers should ease back to western coastal areas of Scotland this evening, where they will continue overnight, but for many areas it will become dry with clear spells away from the northwest. Not a cold night anywhere, in fact feeling muggy in the south.
Wednesday
One area of thunderstorms clearing SE England and East Anglia in the early hours, but perhaps another batch of thunderstorms arriving across central southern England in time for the Wednesday morning commute, bringing a lot of surface water and spray, before these too clear northeast by mid-morning. Otherwise, much of England and Wales likely cloudy in the morning, with outbreaks of rain, perhaps thundery, likely almost anywhere. Drier and brighter morning across Northern Ireland, Scotland and perhaps the far north of England, though with showers affecting western Scotland and northern coasts of N. Ireland.