Well, that was quite the week. Torrential rain, flooding, some thunderstorms mixed in, and it's been cool as well. Not exactly the summer heatwave that certain tabloids had been promising. This weekend sees some improvement with some sunny spells, and it'll be warmer in the east. But there will still be some wet weather about, mostly in the form of showers, and some will be heavy.
The rain totals over the past five days show the wettest areas very well. Lincolnshire has seen the broadest swathe of very wet weather, with totals comfortably over 100mm in some places. The average monthly rainfall in England in June is 61mm.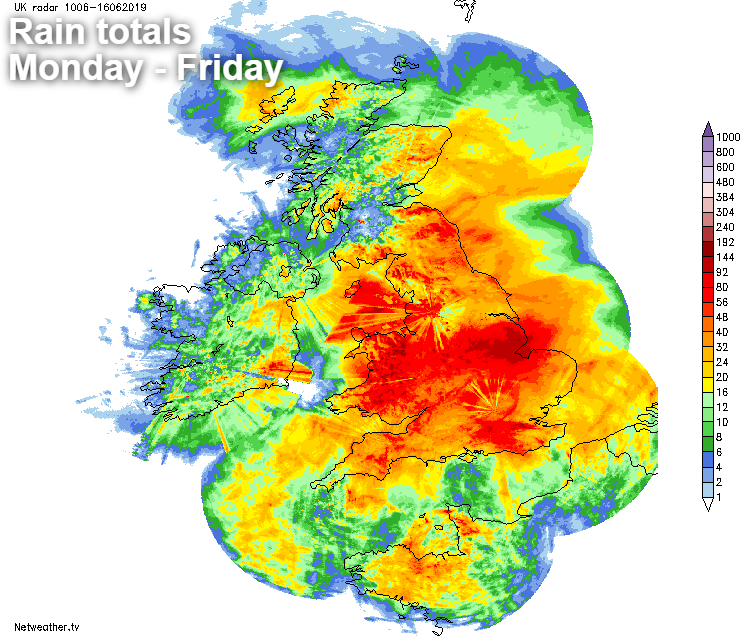 We have a couple of low pressures on the scene today. The main one, out to the northwest of the UK was responsible for a lot of the rain in the east of the country earlier in the week, having done a tour around the UK. The second one is smaller and is orbiting around the primary low. Swinging up from the southwest today, and up through the Irish channel to be in northwest Scotland tomorrow, before heading away north.
That second low is pushing a front in from the West today, bringing with it some showery rain. Through the day, the front will continue northeast, with some heavier bursts of rain developing on it. Ahead and behind it, there'll be some sunny or bright spells but with a scattering of showers getting going.