We're into a lull in the rain this morning, but there's more on the way today. The pulse of that will be moving up from the southeast during the morning, but the main area of persistent rain will develop across parts of central England, northern England and north Wales later.
The reason for this next burst of wet weather is low pressure nearby once again, and in fact, it's two low pressures. There's one just close to the southeast which will bring some heavy, showery, thundery rain shortly. The next one will run across from the continent and into the North Sea later, to bring the persistent rain further north. This one will become dominant, then take a tour up the east coast of Britain, head west past the north coast of Scotland and then sit out to the northwest of the UK into the weekend.
There have already been many issues with flooding, and with the additional rain on the way, the number of flood alerts and warnings are sure to increase. Rainfall totals over the next 24 hours are going to be more than 50mm in prone spots.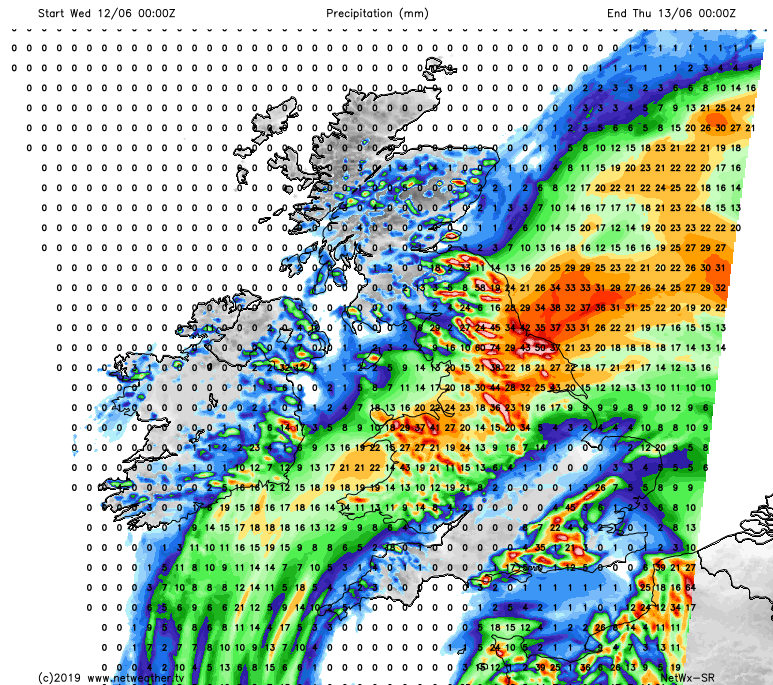 Overnight and into tomorrow, showers will continue to affect southeastern and southern central parts of England. The band of rain further north will pivot, pushing down into the rest of Wales and southwest England on one side, and up into eastern Scotland on the other side. The persistent rain will tend to break up across England and Wales during Thursday, with some sharp, thundery showers remaining. For Scotland, the rain will head further north and then move west later in the day.