Tonight
Staying damp across northern and western areas tonight, with further outbreaks of rain spreading east across Scotland, Northern Ireland and eventually northern England, Wales and perhaps the Midlands by the end of the night. Rain turning heavy and persistent across the northwest. Southern and eastern England will stay largely dry but increasingly cloudy. A mild night away from northern Scotland, no lower than 11-13C for most.
Sunday
An area of low pressure will track east across Scotland on Sunday, with a trailing front bringing outbreaks of rain lingering across northern Scotland through much of the day, further south a cold front will drive eastwards across the UK taking a band of rain across the north and west in the morning edging east to reach eastern England during the afternoon. Drier and brighter but cooler and fresher conditions following across southern Scotland, Northern Ireland, northern England, Wales, Midlands and SW England, though a few showers possible in the far west. Temperatures reaching 19-21C across eastern England, 16-18C elsewhere across England, Wales and N. Ireland. A cooler 10-14C across Scotland.
Rain for most by the end of Sunday, then showers or longer spells of rain on Monday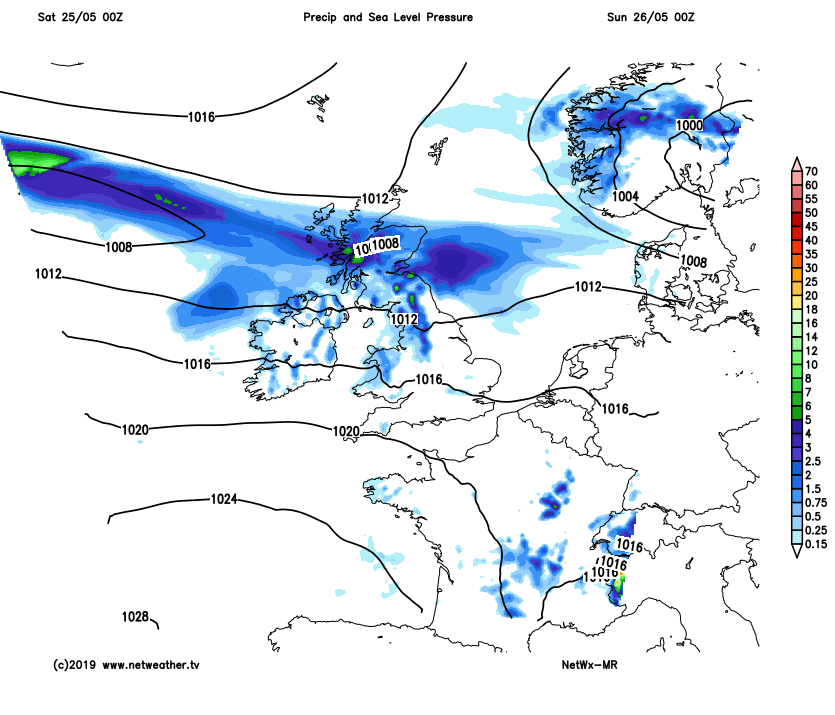 Bank Holiday Monday
Cold front clearing away into the near continent Sunday evening, taking its band of rain with it and introducing a cooler and fresher northwesterly flow across all parts for Bank Holiday Monday. Northern Ireland, much of England and Wales will see a day of sunshine and showers, heavy locally, perhaps with hail and thunder, showers most frequent in the west. Cloudier with more persistent outbreaks of rain across Scotland, as an area of low pressure moves in from the Atlantic. Temperatures reaching 11-14C across Scotland and N. Ireland, 15-18C across England and Wales, so not particularly warm for late May.
Rest of next week
A generally unsettled theme continuing for the rest of the week, quite cool at times, particularly on Tuesday, as we see a northerly flow develop – which will feed sunshine and showers across the UK. Wednesday is looking mostly dry and sunny, as a brief ridge of high pressure builds in, but rain and strengthening wind will arrive across the northwest in the afternoon before spreading across many parts Wednesday night before clearing east on Thursday morning followed by sunshine and showers. Southern England perhaps staying mostly dry. More cloud and rain perhaps spreading of the Atlantic across northern areas on Friday, but southern areas may stay dry.