Traditionally pressure systems begin to re-organise themselves about this time in May as we begin to lose those pesky spring northerlies. That transition is taking place at the moment, but with the origin of the air mass still from the North, the atmosphere is unstable, generating showers.
Early morning mist and patches of low cloud are clearing rapidly now, with some areas starting the day fine. Like yesterday though, cloud will build through the morning generating a scattering of showers, that'll be most frequent over the North and East of Scotland and across the eastern half of England. Some will become heavy, giving local hail and thunder, but such is the nature of showers that not everywhere will see them. Nevertheless almost anywhere could catch one and if you do they will be slow moving and therefore could last a while.
With winds mostly between the northwest and northeast mostly quite light, it'll feel pleasantly warm where you see the best of the sunshine. Top temperatures18 to 20C in the South, 15 to 17C further North but only 12 or 13C across North East Scotland.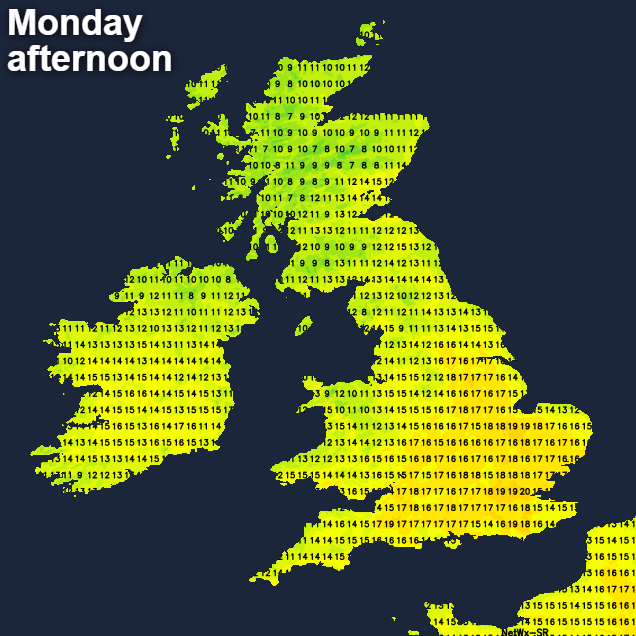 There'll be a further scattering of showers into the evening, but these will fade overnight. Some patchy cloud and the odd shower will remain, but most parts become dry with clearing skies. This'll allow mist, patchy fog and some low cloud to form towards morning. But it's not expected to be a cold night, with minimum temperatures mostly in the range 6 to 11C.