Wednesday was the joint warmest day of the year so far, with Kinlochewe in the western Highlands reaching 25.8C, which also occurred at Treknow in Cornwall at the other end of Britain on the 19th April (Good Friday). However, yesterday was the peak of this week's warmth, as it will turn progressively cooler by the weekend, as an easterly wind picks up. It will also turn more unsettled from Friday, initially across England and Wales, then across many parts over the weekend, with a mixture of sunshine and showers, some of which will be heavy and thundery.
Today
Thursday is looking like another mostly fine, dry and sunny day, though with a little more cloud than recent days. After a fresh start, with temperatures widely in single figures, any morning mist or fog should quickly burn off and many will continue with a sunny morning which will quickly warm up in the strong May sunshine, though cloudier across N. Ireland and western Scotland, with the odd light shower., and some high cloud across the west in general making sunshine hazy.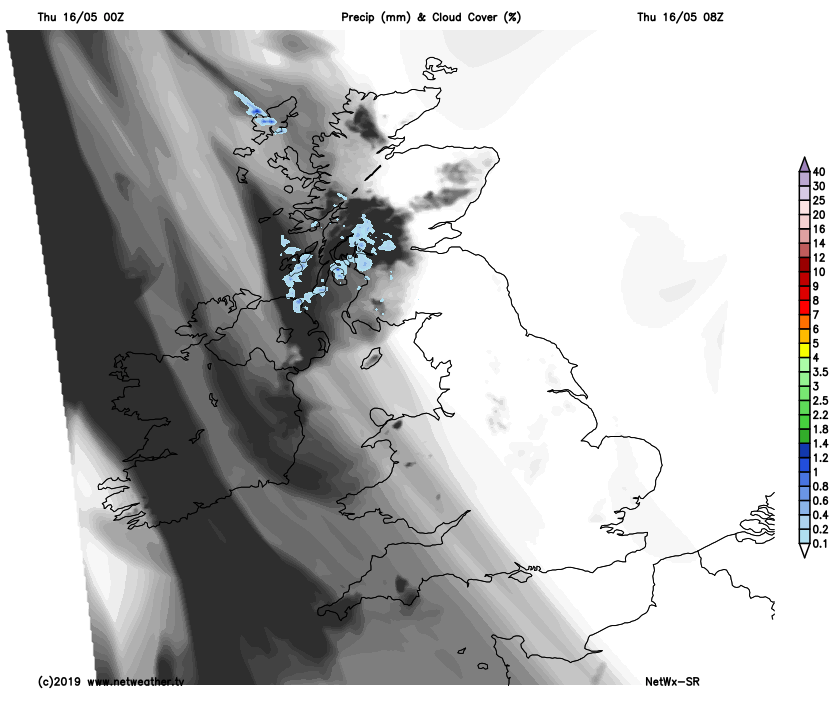 After a sunny morning, southern England and East Anglia may see more in the way of cloud spilling in from the east for the afternoon - as the easterly breeze picks up. Cloudy across western Scotland and N. Ireland too, with the risk of some sharp shower developing, but elsewhere, staying mostly dry and sunny through the afternoon.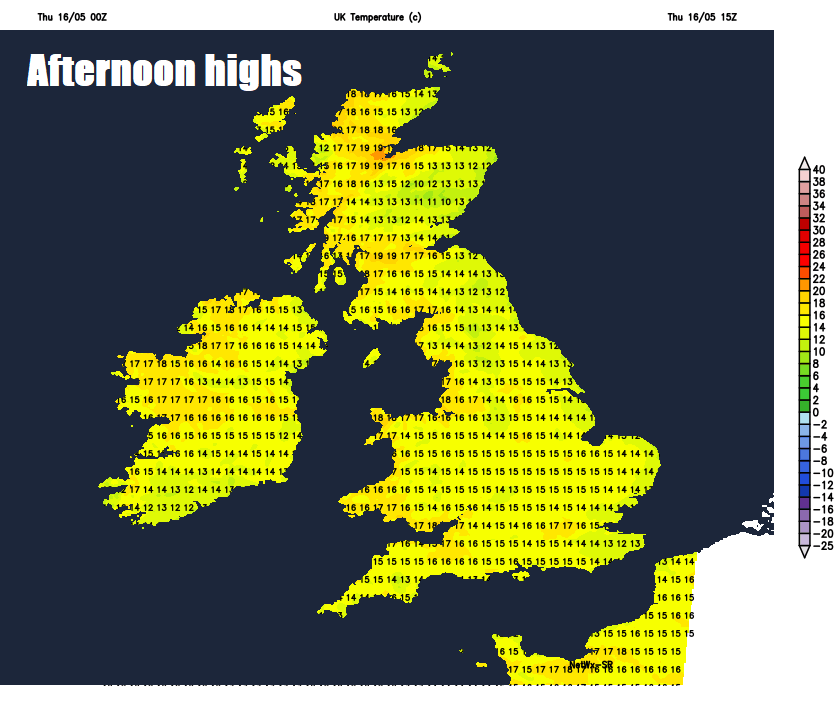 Temperatures cooler than recent days, particularly in the north where we've seen the highest temperatures. Highs of 16-19C generally inland, cooler around eastern coasts - where 13-15C is more likely. A freshening easterly breeze across the south. Remember that the sun is strong at this time of year, so UV levels will high where the sun's out for many, so be sure to protect yourself from the sun. Also, pollen levels will be moderate as we start to enter the grass pollen season.