Although we will not see a return of the sort of temperatures we saw over the Easter weekend, there is still some warm and humid air around across central and southern areas – where we could see 20C today in a few places where the sun comes out. But generally, today will be a cloudier day across many areas, with some heavy and thundery showers breaking out and drifting north across Wales and parts of England later. A cold front will push north across many parts by tomorrow, with the rest of the week a lot cooler – particularly noticeable in the south, but it will remain unsettled, with spells of thundery rain or showers spreading northeast across all parts and becoming windy in the southwest. Saturday likely to see spell of wet and windy weather spread across the south, but Sunday looks drier, as high pressure builds.
Today
For now, quite a bit of mid-level cloud has spread north overnight, so for many it maybe a hazy or overcast start and across the southwest of England and south Wales there are some outbreaks of rain coming and going. For most it will be a dry morning and there will be some sunshine across northern and eastern areas. However, a band of showers along a cold front will spread north across Wales and southern England this morning. The bands of showers turning heavy and thundery as they continue north across Wales, the Midlands and eventually northern England, perhaps producing some hail and torrential downpours locally. Brighter and drier conditions following from the south across southern counties of England in the afternoon and for Scotland, N. Ireland and the far north of England it should remain dry and bright or sunny this afternoon, though cloudy and chilly towards eastern coasts.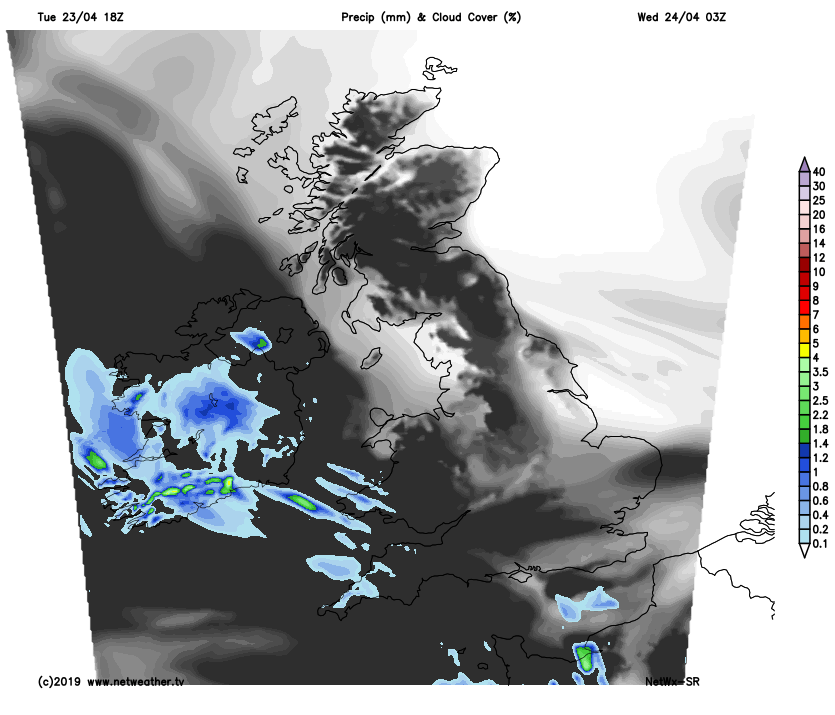 Quite warm this afternoon where we see some sunshine, temperatures reaching 19-20C across eastern England, 14-18C elsewhere, though across eastern Scotland it will be chillier with onshore breeze and low cloud – perhaps not better than 11-12C here.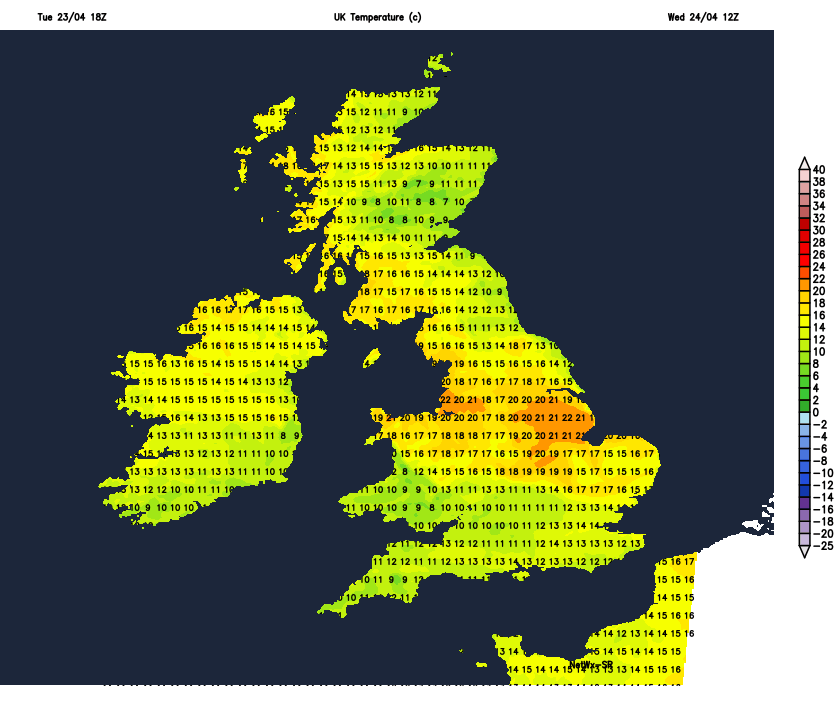 Tonight
A band of heavy and thundery showers will continue to trundle north across Northern Ireland and southern Scotland through this evening, before becoming confined to the far northwest, another area of heavy and perhaps thundery rain perhaps clipping northeast Scotland by the end of the night. Another area of showers, perhaps thundery, spreading in across southern England in the early hours. Otherwise, where you don't have showers some clear spells. A mild night for most though.
Thursday
Thursday will see more showers spreading or developing northwards across many areas, perhaps more widespread than today, some of the showers heavy and thundery with hail. Noticeably cooler than recent days and breezier too – especially in the west, temperatures reaching 13-15C.