What an Easter weekend that was, virtually wall to wall sunshine, temperatures widely up into the twenties and culminating in temperature records for Easter Monday falling in England, Scotland, Northern Ireland and Wales. The warmest day of the weekend was Saturday, reaching 25.5c in Hampshire - which bagged community member 38*5c a Netweather Extra subscription in our temperature forecasting competition.
Change is on the way though, with heavy, thundery showers becoming becoming widepsread this week.
Today, the changes won't be too dramatic, with lots more warm sunshine on offer, after what's been a cloudier start to the day. Some showers are affecting the far west of the country and across into Ireland, but those affecting the UK will tend to ease away during the morning. A few more may fire up in the southwest and into Wales this afternoon, but they're likely to be very isolated if they do.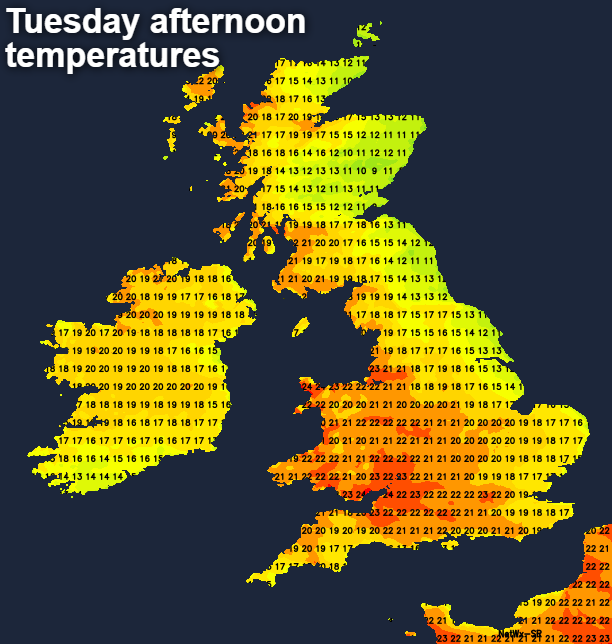 As you may have spotted on the temperature map, Eastern coastal counties are back to being cooler again today too, with an onshore breeze bringing some low cloud at times as well. West will be best for the warmth with highs of 20-24c typical.
This evening and overnight are when we start to see the beginning of the real breakdown arrive. First with showers getting into southwest England, then spreading through to other parts of the south, before heading further north by dawn.
Tomorrow (Wednesday) will see that process continue, with showery rain (heavy and perhaps thundery at times) moving north. Ahead of it, there'll be some sunny spells, but the cloud will tend to fill in as the day wears on. The northern half of Scotland should avoid the wet weather until after dark though. Temperatures will be well down on what we've been used to, peaking at 14-18c typically, and colder still nearer to the coasts.