We may as well get the important stuff out of the way first this morning, and that's what day of the week it is. I can confirm it is definitely Saturday, even though yesterday spent the day feeling like it was. 24.2c was the top temperature yesterday, recorded in Hampshire, with just about everywhere enjoying a warm, sunny day.
Today, and for most, the rest of the Easter weekend follows suit, with just the far north and northwest of Scotland, along with Northern Ireland bucking the trend with more cloud and the increasing risk of some showery rain from later today and into tomorrow. Easter Monday could also bring one or two thundery downpours into southwestern Britain too, but that's very uncertain at this stage.
Temperatures today won't be too far away from yesterday's values with highs widely into the low-twenties. We may see a 25c or so in a few spots though. Under the cloudier places in the far northwest, it's another tale, with the low-teens more like it.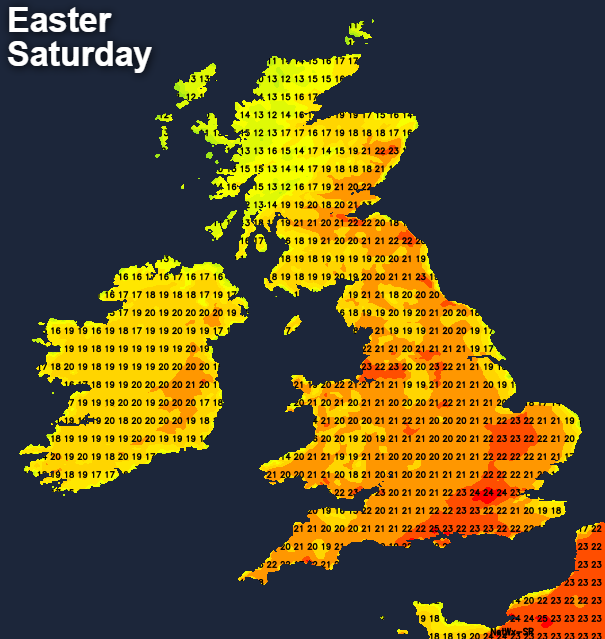 Keep an eye on the latest temperatures across the UK and Ireland here.
Easter Sunday is likely to be the wettest day of the weekend for the Northwest and north of Scotland, but for everyone else, sunny skies and warmth will again run the show. Temperatures will once more get widely into the low-twenties with highs pretty much on a par with Saturday.
By Easter Monday, the cloud and rain in the far northwest pull away, so a drier, sunnier and warmer day in prospect here. Elsewhere, it's a case of as you were, although we do need to keep an eye out to the south as some extra cloud and the threat of a shower or even a thunderstorm may drift up from the continent. The vast majority won't even see a splash of rain though, and in fact, it's not sure any will arrive at all, but the potential is there.