As it's a rare treat when the weather plays ball during a holiday weekend, the only thing most people want to know at the moment is just how warm it's going to be over Easter. So, we may as well answer that straight off the bat - it'll be 18-22c widely, some places perhaps a touch warmer (25c maybe?), but cooler close to some east coasts.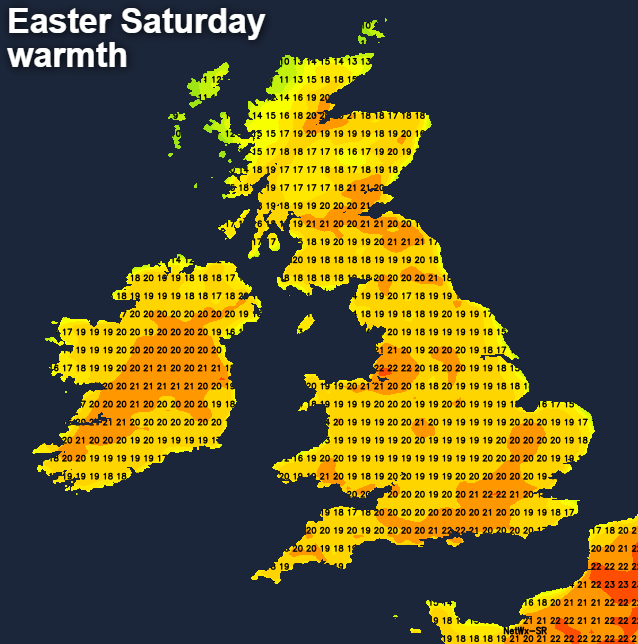 Since the average high at this time of year is around the 10-12c mark, that's well up there. April has a knack of delivering warm spells like this, so not too unusual, and the April temperature record is not going to be in danger, as that's 29.4c set in London way back in 1949.
So, when is this warmth going to arrive?
Well, it's already starting to show its hand today with highs making it up into the high teens and maybe even low-twenties here and there. A fair bit of low cloud and murk did roll in overnight though, so it'll take a while in many places for the sun to come out.
And when will the warm weather end?
Tricky one this, as there is some uncertainty. It may be that by Easter Sunday and Monday, the far northwest starts to see more cloud and even some light rain moving in, but elsewhere the whole long weekend looks fine and warm. That boundary between cooler, cloudier weather to the northwest is going to be hard to predict, so it may be that it just stays far enough away for even the northwest to stay fine throughout. Then into next week, the most likely picture is that we will cool down and become less settled from the northwest, but don't bet against the fine weather sticking around a while longer.
---
Check your local Easter weekend forecast here
---
Back to today, some places will keep some cloud throughout, but many of us will see warm sunshine breaking through. That may just help to trigger some showers in eastern and central England later on, they could even be heavy and thundery but will likely be few and far between.