Favourite weather game of the week; Where will the UK be hotter than (or 'HOTTER') than for Easter weekend. Majorca and the Mediterranean just two being bandied about with "heatwave" and "sizzling" in media headlines.
It is going to be warmer by the end of the week. Last weekend, Sunday's top UK temperature was under 12C, by Easter weekend we should be 10 degrees above that. Warm air will be drawn up towards the UK from Africa thanks to a steadying high pressure over Scandinavia, bringing plenty of dry weather and a developing low pressure over Spain and the western Mediterranean and showers. In between the two, it will be quite windy for the next few days, calmer at the weekend for the UK.
With many people having the long weekend off work, some fine, dry and warm weather could be just the ticket. And for Easter events that have bravely planned to be outside, the forecast looks ideal.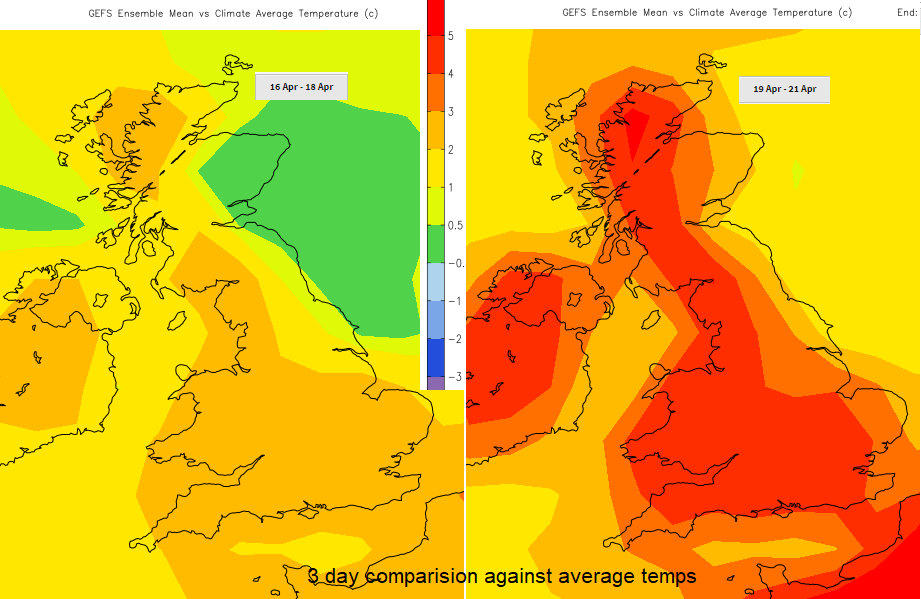 Temperatures at the moment look to be in the high teens and low twenties Celsius, with 23C (73F) a maximum by Saturday, maybe higher. The forecast could change during the week, but it looks like southern England and western Britain will fair the best as a cooler easterly breeze persists off the North Sea. There will also be a lot of dry weather, some cloud coming and going, so bright skies and sunny spells.