The weekend will be cooler than recent days, thanks to a cold front pushing down across the UK overnight, introducing sunnier skies and fresher air for most today too. Sunday will be dry and bright across much of England and Wales, while Scotland and N. Ireland will be windy and cloudy with showery rain and hill snow moving southeast. High pressure lurking to the west will slide east across the UK through early next week and will hang around for the rest of the week, so it will remain dry and settled with light winds across most areas. Nights will be chilly, even with a touch of frost in rural areas, but by day we could see temperatures reach the high teens towards the end of the week.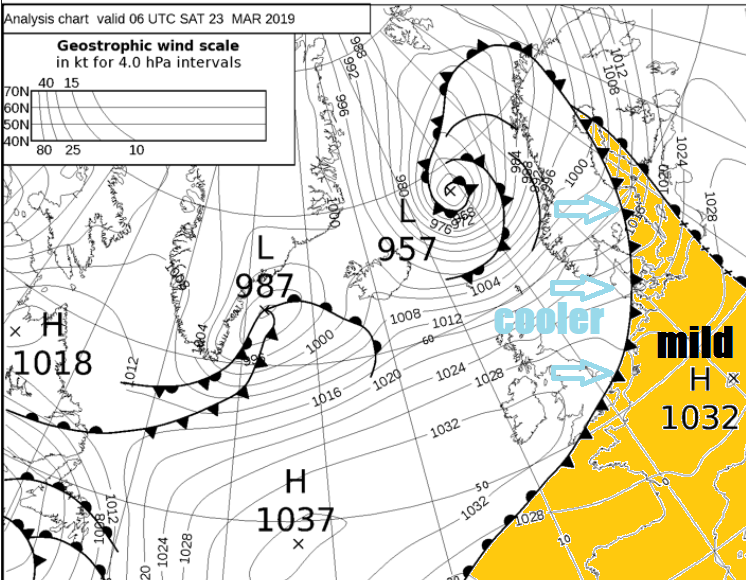 Today
For now, the weakening cold front moving south overnight is little more than a band of cloud covering south Wales and southern England to start the day, though thick enough to bring some patchy drizzle in places. Mild here too.
Further north clearer skies and cooler air have spread down from the north from north Wales and the Midlands northwards, so a bright or sunny start to the weekend here, though there are some scattered and locally heavy showers across NW Scotland, falling as snow over higher ground. Temperatures across parts of Scotland and NE England only a few degrees above or close to freezing to start the day, so a chilly start, with a touch of frost locally.
Thicker cloud will tend to linger across southern coastal counties of England to the south of the M4, perhaps bringing some patchy drizzle or light rain. But for most Saturday will be dry with hazy sunshine, the exception will be across NW Scotland, where there will be further showers, wintry over higher ground, windy here too with gales around coasts. Winds lighter elsewhere and afternoon temperatures should reach 9-11C generally, which is lower than recent days, perhaps 13C across the southeast.
Tonight
Cloudier skies and scattered showers spreading east across Scotland and perhaps N. Ireland overnight, otherwise mostly dry across England and Wales. It will turn cloudy across southern England and south Wales, perhaps with patchy drizzle in the west, but with clearer skies from north Wales and Midlands north, temperatures will drop into low single figures – bringing the potential for a touch of frost.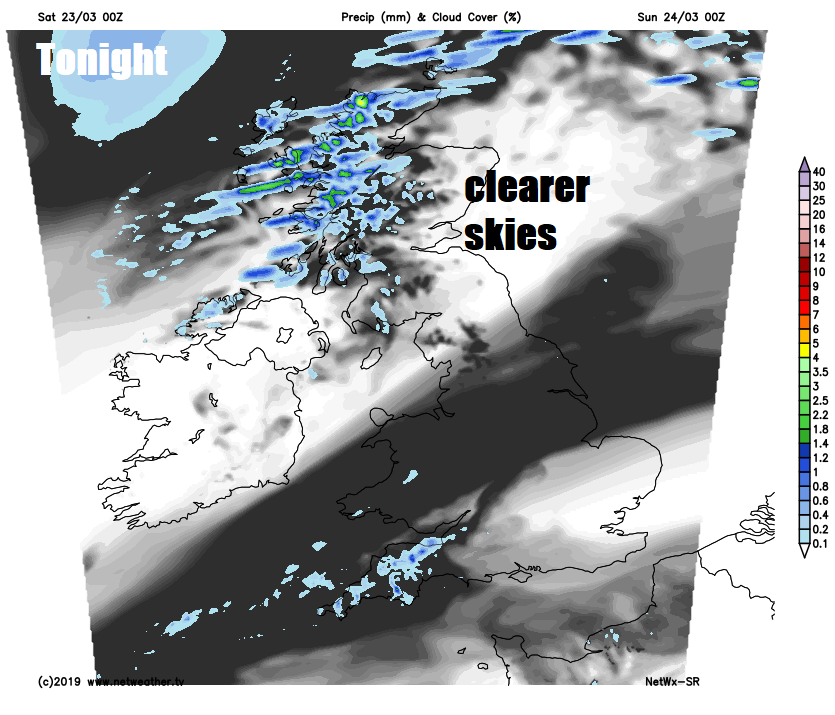 A solar storm arriving this weekend will mean the Northern Lights or aurora borealis will be visible across Scotland tonight – where the cloud breaks. It could be cloudy for Glasgow and Edinburgh as showers move through, but breaks in the cloud are possible to see it. Best place for the longest cloud breaks and so to see the lights probably NE Scotland.