The cloud broke on Wednesday to allow warm sunshine to develop to develop in places, with Sheffield the warmest spot, reaching 19.4C. So not a bad start to Astronomical spring for some. Today will see more in the way of cloud for many compared to yesterday, but it will be mostly dry and mild. Friday will see an increasingly wet and windy conditions spread down across northern and northwestern areas, drier but mild and mostly cloudy further southeast. A weakening cold front bringing a band of cloud and rain petering out will arrive across the south by Saturday, bringing a cooler weekend for all. Cloud may linger across the south Saturday, brighter across central areas, windy with blustery showers across the north. Windy with more persistent rain moving in across the north Sunday, sunny spells developing in the south, after a cloudy start.
Today
For now, a rather grey and murky morning for many, with coastal mist or hill fog across southern and western areas, cloud thick enough to bring the odd spot of drizzle here. For most it will stay dry but remain rather cloudy throughout the day, but a few brighter or sunny spells should develop across areas sheltered by higher ground, such as NE Scotland, NE England, NW Midlands and east Wales. Scotland will see thicker cloud across the north and west, which will bring patchy outbreaks of rain at times, especially towards the west. Temperatures today not bad on the whole, despite the cloud for many, reaching 12-15C widely, perhaps 16C where we some brightness or sunshine in the east this afternoon. But not quite as warm as yesterday.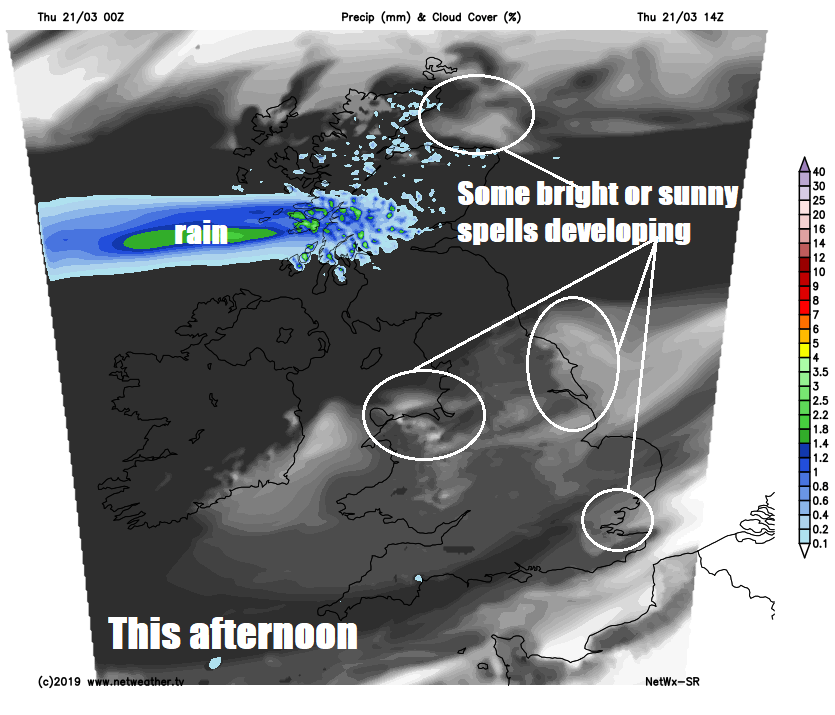 Little change this evening and overnight, staying cloudy but mild for many, mist over hills and coasts in the south and west. Increasingly windy across the northwest, today's patchy rain here generally clearing north.
Friday
A windy and increasingly wet morning across Scotland and Northern Ireland, as tightening isobars and a cold front moves southeast off the Atlantic. The band of rain, heavy in places, eventually spreading in across northern England and west Wales through the afternoon, brighter but colder conditions following across Scotland and N. Ireland, blustery showers across western Scotland, which will be increasingly wintry over higher ground. Mostly dry but cloudy and mild across east Wales, Midlands, southern and eastern England, though some brightness possible towards the southeast. Temperatures reaching 10-13C across Scotland and N. Ireland, 12-15C across England and Wales, perhaps 16C in the southeast if we see some brightness.