It's set to stay windy as the week draws to a close, with bursts of showery rain but also some brighter skies for some. A deepening low tracking northeast on Saturday could bring disruption across many areas, due to snow across Scotland, gales or heavy rain across England and Wales. Sunday brighter and cooler, but still windy with a scattering of showers. The weather calming down as we head through next week, some dry and bright weather but also cloud and rain at times for many at first, but Wednesday onwards high pressure builds from the south, so many areas becoming drier and more settled.
Today
For now, it's a generally frost-free start, temperatures in double figures to start the day across central, southern and eastern England, as high as 12-13C in places. It's also rather windy this morning away from northern Scotland, winds gusting between 30-40mph widely, 40-50mph locally, isolated 50-60mph to the lee of the Pennines and across the far west.
For much of England and Wales it's a windy and cloudy picture for the morning commute, mostly dry across eastern England, but across Wales and western side of England there are some showery bursts of rain. Scotland and N. Ireland brighter and colder than further south, but with a scattering of showers, heavy in places and falling as snow over higher ground.
The brighter skies across Scotland and N. Ireland should gradually shift south across northern England, north Wales, Midlands and East Anglia through the morning and into the afternoon, showers continuing across Scotland and N. Ireland, falling as snow over Scottish hills, showers also affecting northern England, but some sunny spells in between. South Wales and southern England hanging on to cloudier skies for much of the day, with patchy rain spreading from the west, thanks to a stalling frontal boundary. Staying windy through today across most areas, with gales locally, rather mild across England, Wales and N. Ireland, temperatures widely reaching 12-15C, cooler across Scotland – where temperatures will reach 5-8C.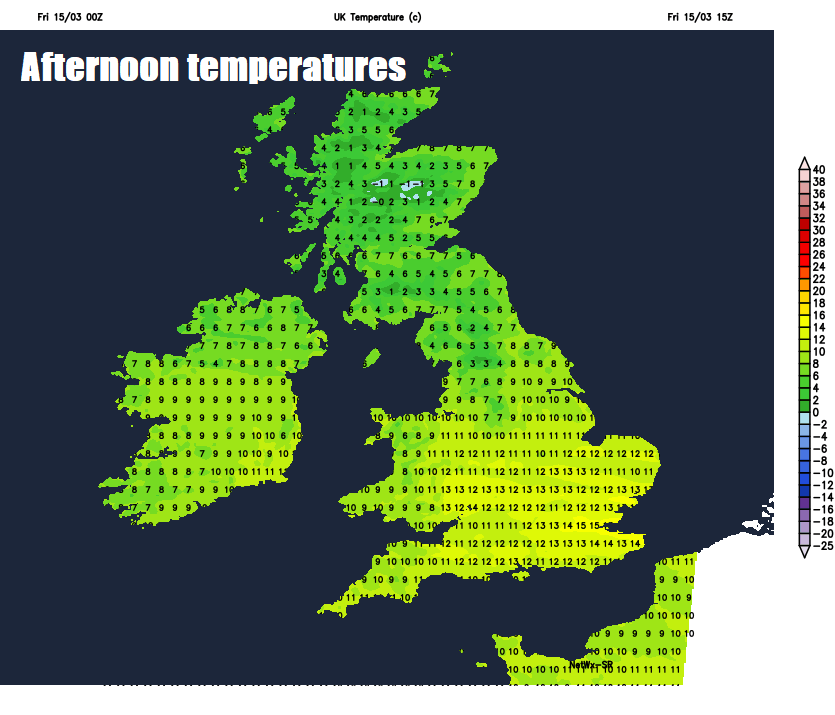 Tonight
Showers across Scotland becoming confined to western areas this evening and overnight, otherwise it will turn cold in the clearer spells, temperatures falling to a couple of degrees above freezing at lower elevations, below freezing over higher ground. Further south, cloud and outbreaks of rain will spread northeast across England, Wales and N. Ireland, turning to snow over the northern Pennines and hills of N. Ireland, but milder further south, temperatures perhaps staying in double figures across the south, but it will turn drier here after rain early in the night.
Area of low pressure tracking northeast will bring heavy rain for many on Saturday, snow over Scotland, gales across England and Wales.