There's no respite these next few days from the run of rather turbulent weather. Rain spreading southeast overnight will be around across England and Wales to start off today, but this should clear away quickly, to sunshine and showers for the rest of the day across most parts. Remaining unsettled through Friday and the weekend, as the jet stream running across the Atlantic and over the UK brings a series of low pressure systems, bringing further wet and windy weather, Saturday could be particularly stormy. However, as we head into next week, we should see the weather start to calm down, as high pressure builds in from the south, there will be cloud and rain at times in the north initially, but eventually all parts could become dry, settled and warmer towards the end of the week.
Jet stream will bring a series of low pressure systems across the UK next few days, perhaps stormy Saturday.
Today
For now, a grey and wet morning commute across much of England and Wales, the outbreaks of rain will be replaced from the northwest by showers but also increasingly brighter skies across the north in between showers. Showers already across Scotland and N. Ireland with brighter skies between, the showers continuing through the morning, blown through on a strong northwesterly wind, heavy in places and falling as snow over the Highlands.
By the afternoon, most areas will see increasing sunny spells from the northwest, but showers continuing, these heaviest and most frequent in the north and west, where they may bring hail and the odd rumble of thunder. But some showers making it through to southern and eastern areas too, blown through on a strong northwesterly wind which will gust 35-45 mph inland, more around western coasts. It could stay cloudy and wet all day though across SW England.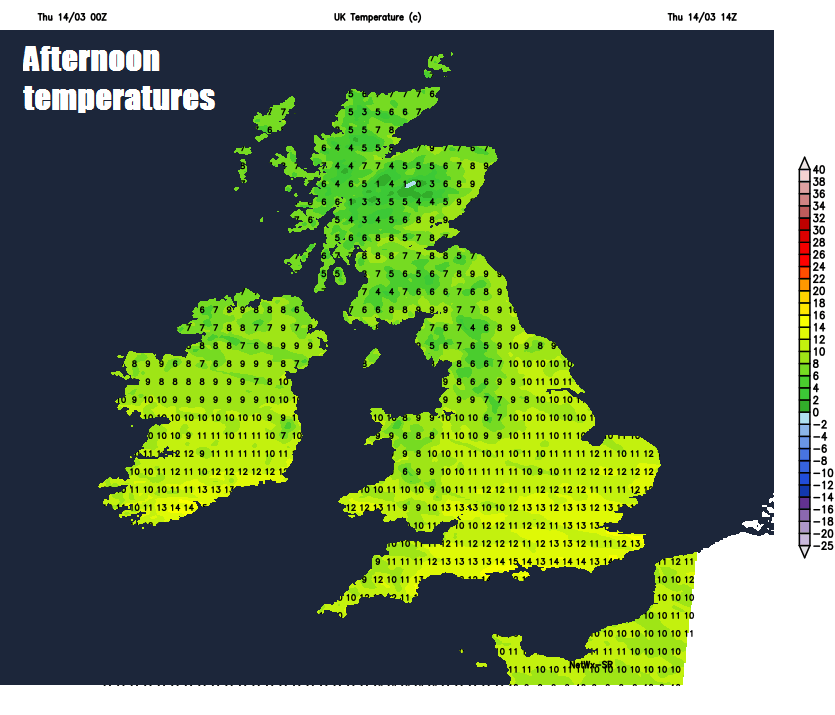 Temperatures reaching 7-9C across Scotland, N. Ireland and far north of England, a milder 10-13C further south, but feeling colder in the strong wind.
Friday
More outbreaks of rain arriving quickly across the west later this evening, before spreading east across many parts overnight. Rain clearing northern and eastern areas during the morning, but another windy day on Friday, with plenty of showers packing in across western areas, these turning to snow across Scotland, particularly over higher ground, as colder air filters in. Eastern areas faring better with perhaps fewer showers than further west and better chance of sunshine too. Quite a contrast in temperatures between north and south, with Scotland and far north of England reaching 6-8C at best whilst across SE England and East Anglia we could see 12-14C.