Winds
The UK Met office currently has yellow wind warning for Tuesday and Wednesday and rain warning for NW England for much of this week. It is likely that Irish Sea ferries will be affected and there have already been alterations and cancellation to Scottish Island routes. Bridges, railways and more exposed road routes could also be affected. There will be rough seas and large waves making western Britain and Irish coastal areas dangerous.
The winds will ease over all of Ireland by lunchtime on Wednesday but it stays blustery and chilly. The wildest conditions ease across Britain during Wednesday again leaving a blustery cold NW wind.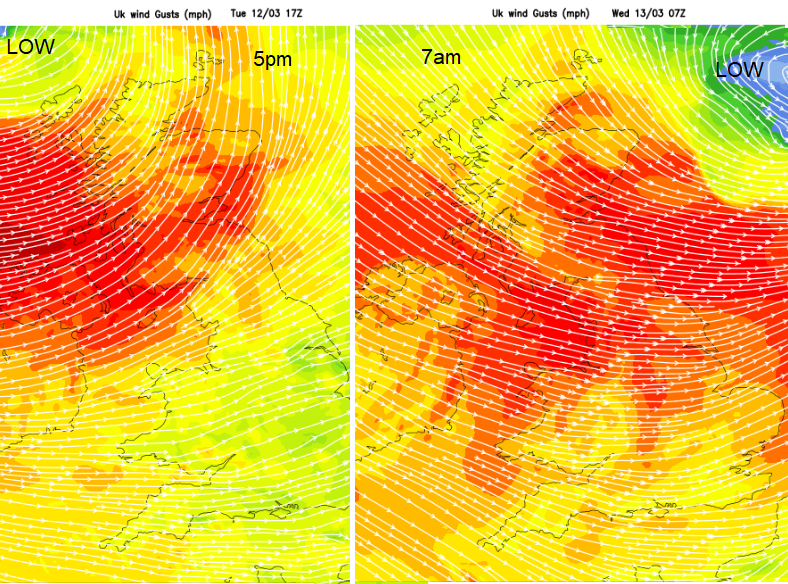 Rain
There are is a rain warning for NW England from the Met Office, there could be localised flooding, and disruption if there are landslips or debris blown onto the railway tracks. The ground is already sodden and rain just keeps on coming from the west this week. There will also be hill snow with a wintry mix in the showers from the NW.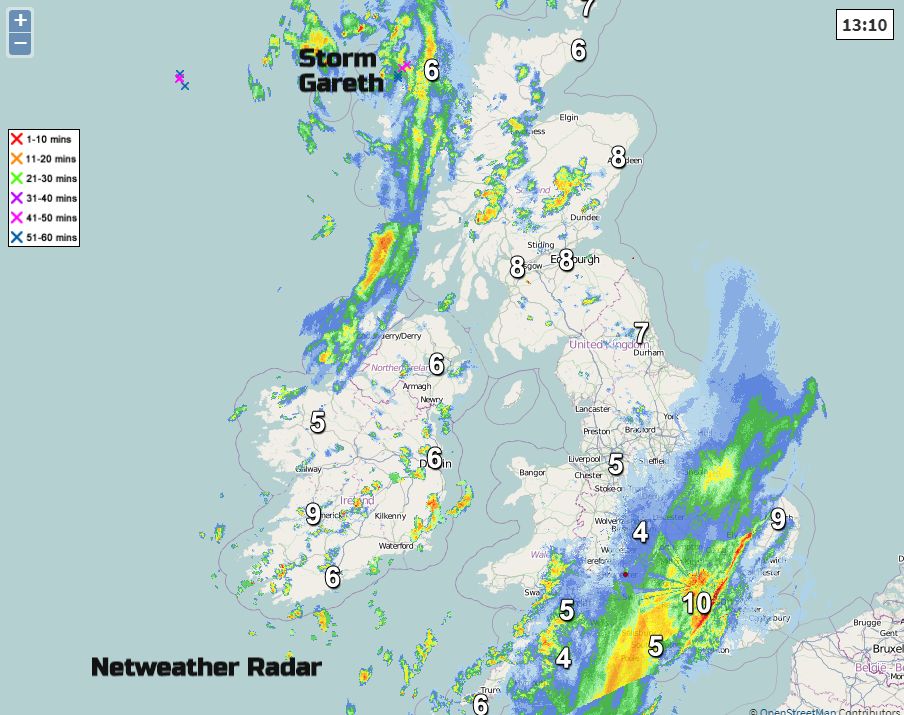 Overtopping waves and spray are expected as a result of strong winds. Scarborough Flood warning.

River levels are rising as a result of heavy rainfall. Consequently, flooding of property, roads and farmland is possible today Yorkshire Dales flood warning.

Localised flooding impacts are probable in York on Wednesday, Thursday and Friday and across parts of the Pennines on Thursday. Environment Agency for England
Keep an eye on the rain, hill snow and current temperatures on the Netweather Radar. All current wind gusts here. Our Twitter Facebook and Instagram feed.
The 7 day forecast for your location and more chat in the Netweather forum about Storm Gareth, the whole Name our Storms process and Weather warnings, are they working?
Top image Dundee Satellite receiving station DSRS