Dry over the alps today, Monday sees a band of precipitation edging in from the West, bringing heavy bursts initially for France and Switzerland but hit moving eastwards quickly on brisk winds so effecting Austria later in the day. Snow initially from 1200m but lowering during the day.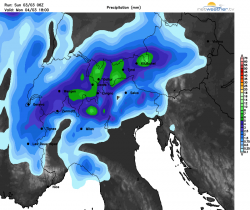 Some showery precipitation for Northern parts on Tuesday, but this quickly fading.
Dry in the east on Wednesday but some showers in western fringes of the Alps. Snow level above 2000m.
Thursday sees the next main system as a band of precipitation edges in from the west, with some large precipitation totals for France and Switzerland through the day, edging into Austria later but fragmenting as it does so. Snow Levels 1800m on the front edge but lowering to 1200m behind.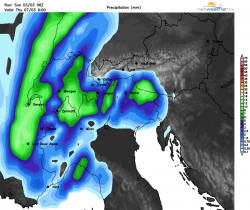 Further showery outbreaks likely on Friday.
Moderate snowfalls possible this week, perhaps 50cm above 1800m.