Tonight
Dry overnight again, with clear spells for many, but we will see more in the way of fog forming overnight across southern areas of England and Wales, as more moisture returns from the south. Turning chilly or cold overnight, with some local patches of frost, but not as cold as last night.
Wednesday
So many starting Wednesday on a dry and fine note, areas of fog, perhaps locally dense, across southern areas of England and Wales should slowly burn off to sunshine through the morning, to join many areas to a dry and sunny day. However, Ireland, Northern Ireland and western most areas of mainland Britain will see low cloud drift in to bring a grey day, which will peg back temperatures to the low teens. In the sunshine further east, temperatures reaching the mid-teens, perhaps 18C across SE England, but as you may notice, temperatures a few degrees down on todays.
Thursday
Then we see a change evolve from Thursday, as the blocking high pressure over mainland Europe that has dominated our weather for a while slips away to the south. This will allow Atlantic fronts to move in from the west on Thursday, bringing cloudier skies than we've seen recently, perhaps some mist and fog lingering from overnight then a dull day with outbreaks of rain forecast to move eastwards across N. Ireland, Wales and parts of central and southern England, though some uncertainty how far north. Some rain also reaching western Scotland later in the day. Maybe brightening up across the southwest to end the day. But temperatures noticeably lower than recent days, reaching 10-12C at best, but still above average.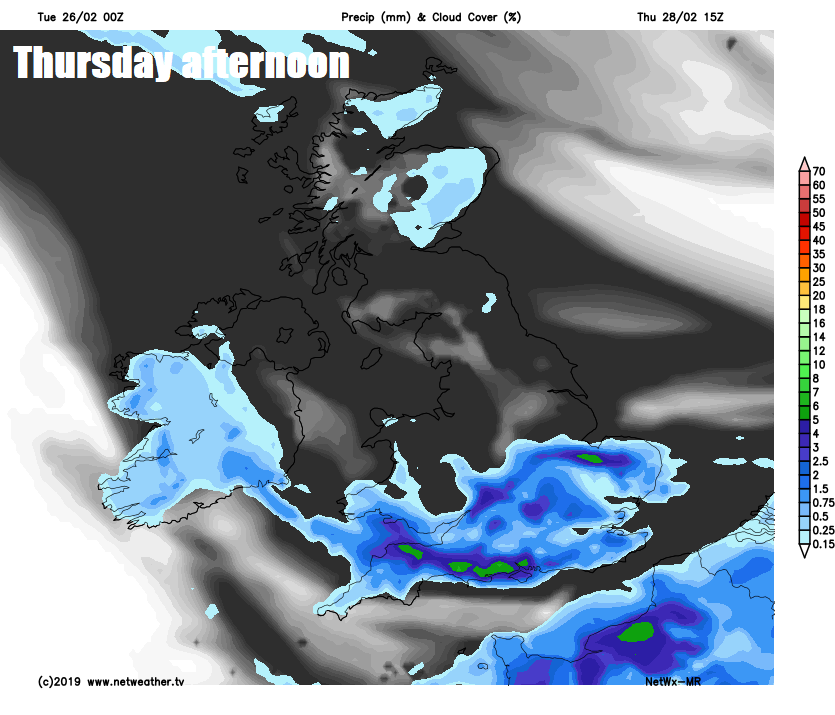 Friday & the Weekend
A brief ridge of high pressure looks to build in for Friday, so dry for most, with some bright or sunny spells developing. Cloud thickening across the west in the afternoon, heralding Atlantic frontal system bringing in a band of rain overnight here, before spreading east but weakening on Saturday morning.
Models show a deep area of low pressure approaching the northwest later on Saturday, so likely turning wet and windy from the west through the day across all parts. The low clearing Sunday morning to windy and showery conditions, but perhaps another low heading off the Atlantic bringing an area of rain across the south by the evening, but uncertainty this far away.