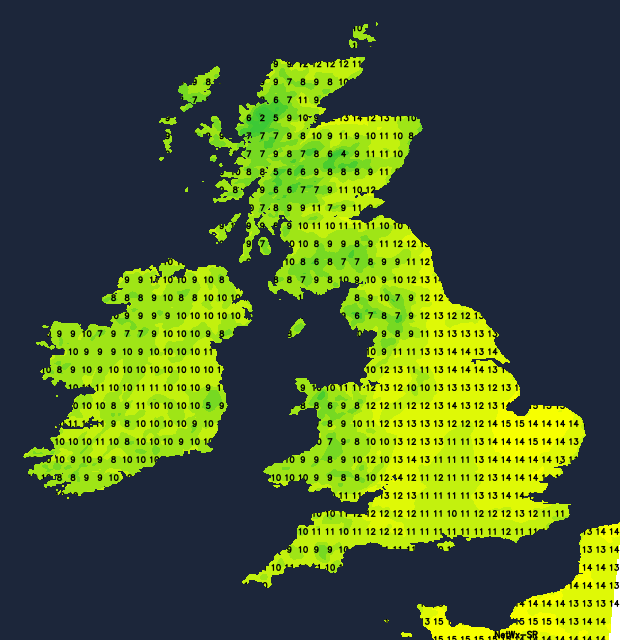 A chillier night follows across the northern half of the country, with lows well down into single figures, and some of the showers turning wintry over the hills. Further south it's milder though, with plenty of cloud hanging about.
Into next week, Monday brings a day of sunshine and showers. The showers (here comes that phrase again) will mostly be in northern and western parts, but there could be a few elsewhere, especially in southern and southeastern regions.It'll be another fresher day with highs not so far from the norm in the north and west, but still a good few degrees milder than average in the east. After some frost and ice overnight, many of the showers should have gone by Tuesday morning. That's due to a brief ridge building ahead of a spell of wind and rain which will fairly speedily sweep in from the west.
The rain is set to cross into Ireland by the afternoon, before quite quickly moving across into western and northern parts of Britain by the end of the day. Central and eastern parts are likely to avoid the wet weather, but all regions will turn blustery with gales possible in both Northern and the Republic of Ireland, along with western parts of Britain.
These are the rain totals for Tuesday, as the wet weather moves in: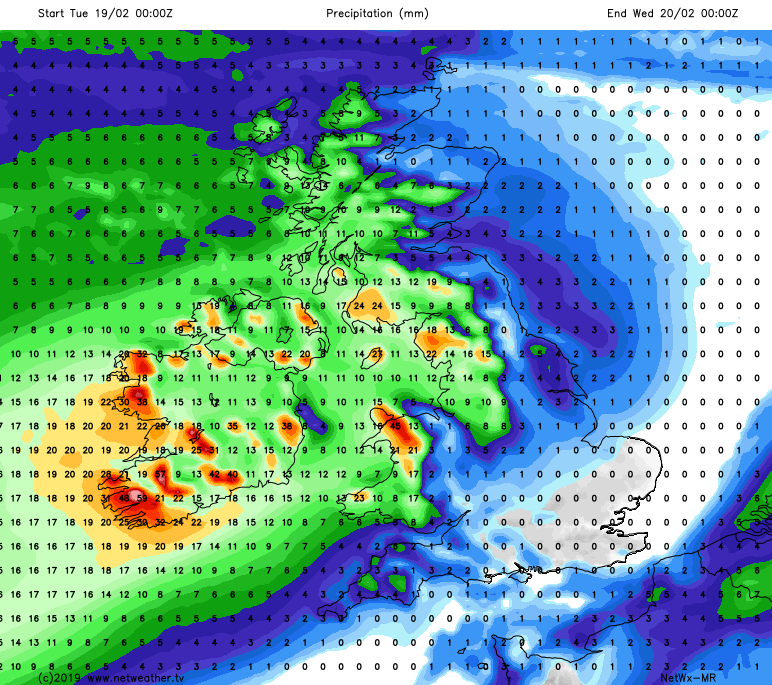 It'll take well into Wednesday for the rain to clear away to the northeast, then we're looking set to head back into a similar pattern to the one we saw this week. With high pressure over the continent starting to move further north and east, and low pressure out to our west helping to draw up warmer air from well south of the British Isles again. Just like this week, it does look possible that the low pressure to the west may be close enough to allow some showery rain and stronger winds to affect the north and west at times, but the drier, brighter weather will be the main weather type for the majority.
Temperatures by this point are liable to move back up into the mid-teens or so with 18c+ not out of the question. The overall February record I mentioned earlier doesn't look in imminent danger, but it maybe something to keep an eye on at least.