Rhyl in North Wales was the warmest place in the UK yesterday, reaching a mighty impressive 17.5c, almost 11c warmer than the average high at this time of year. The UK temperature record for February is 19.7c set back in 1998, so a little way off that, but the Welsh record of 18.6c wasn't quite so far away. (update from Met Office, Rhyl reached 18.2C on Friday 15th)
It'll not be quite as warm today with more cloud around, but even so, highs will widely be up into double figures, with some spots rising into the teens. We'll stay in that sort of range through the weekend, although we'll see some cooler air arriving from the west on Sunday. Later next week, with deeper southerly winds looking set to make a return we could close in on record-breaking warmth for the time of year once again.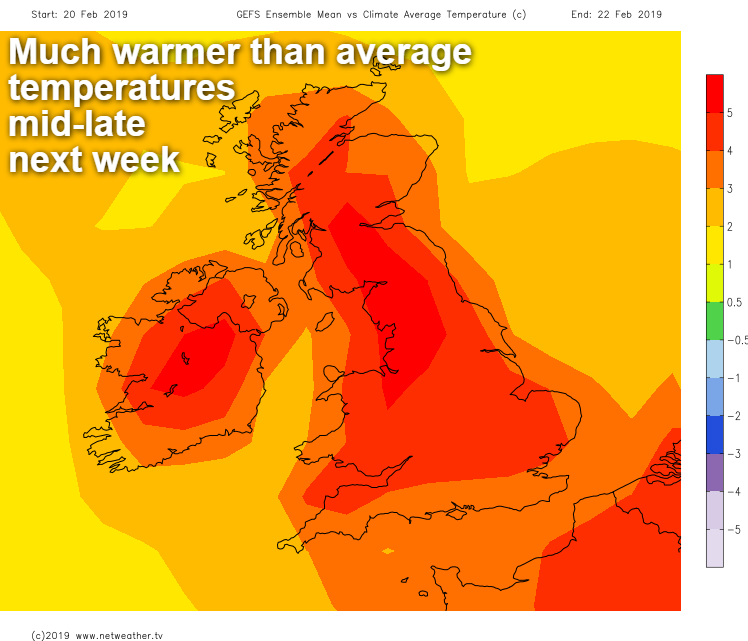 With the extra cloud, there is also some rain about today, chiefly in the north and west (a phrase you're going to be getting used to hearing through the rest of this month and maybe beyond), and mostly showery with drizzly bits and pieces up over the hills. In amongst the greyer skies, there'll also be some sunnier breaks, especially but not exclusively to the east of higher ground.
Later in the day, a band of rain will cross into Ireland, and that'll make it into western Britain on Sunday morning. Ahead of that, a milder night than of late with clear spells and therefore any frost patches at a premium. During Sunday, the rain in the west will head slowly east fading and becoming more showery as it does.
The wet weather will be along a cold front, so behind it will be fresher, cooler air with sunny spells and a decent scattering of showers. To the east of it, during the first half of the day especially, there'll also be some bright or sunny periods, but the cloud will tend to fill in again as the day moves on.
Temperatures tomorrow will be up a touch on today in eastern and central parts with highs of 13-15c, perhaps 16c in some spots. To the west though, 8-11c will be more like it.