There will be some rather unsettled and windy weather over the next few days, Storm Erik, named by the Irish Met Eireann, will slowly move northeast close to the northwest today and tonight bringing gales and heavy rain across all parts, severe gales in the north and west later today and overnight. It will remain windy on Saturday, with gales and persistent rain across Scotland, sunshine and showers elsewhere. More persistent rain arriving across southern England, Midlands and Wales Saturday night and continuing through Sunday before clearing in the evening, winds turning northerly bringing wintry showers in the north and becoming colder across all parts through the day, leading to widespread frost Sunday night as skies clear. Next week likely to see high pressure build, bringing drier and mostly fine weather, nights cold and frosty.
Today
For now, a blustery, grey and wet start for many, as outbreaks of rain spread in from the west this morning. The rain is heavy and persistent across northern and western areas for the morning commute, which combined with a strong to gale force southerly wind, will make for some difficult driving conditions. Some patchy rain across eastern England before the heavy rain across the west this morning spreads east to reach here in the afternoon, accompanied by winds gusting to 40-50mph.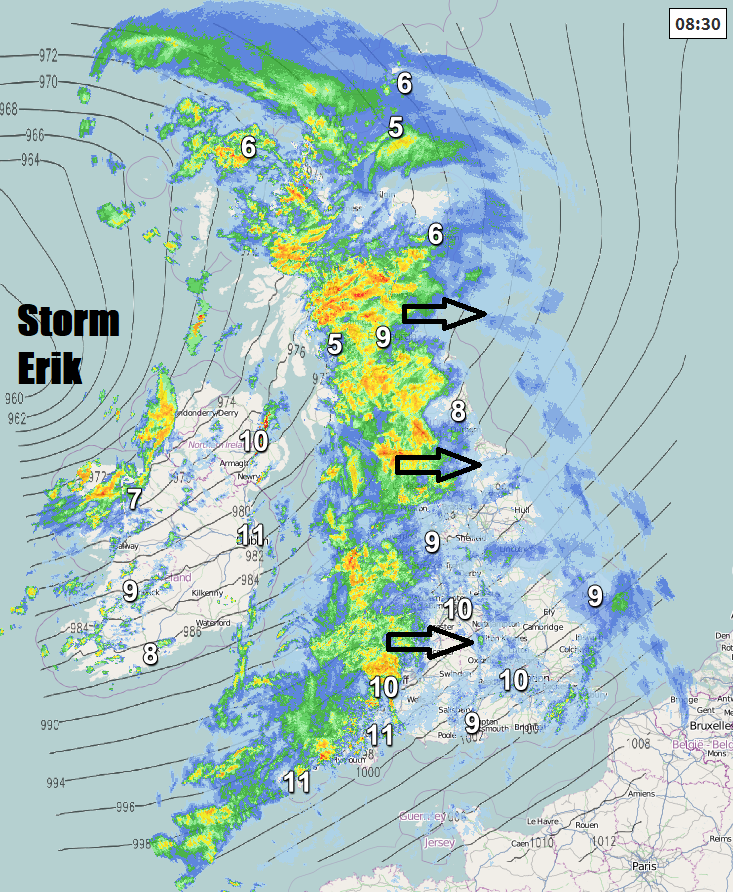 Brighter skies but also some blustery showers following the morning rain across SW England, Wales, northern England and N. Ireland. But we will hang on to outbreaks of more persistent and locally heavy rain across Scotland, swirling around the centre of Storm Erik passing close to NW Scotland, 20-30mm likely widely, but locally up to 60mm over higher ground, which combined with snow melt, could cause some flooding.
Remaining windy with gales into the afternoon and, if anything, winds strengthening across the north this afternoon and evening, with gusts of 50-60mph across N. Ireland and Scotland, perhaps 70mph or more over exposed coasts and hills.