Ireland "Winds will be most severe in Atlantic coastal areas where there will be dangerous sea conditions. The combination of low pressure, high seas and high tides will lead to localised coastal flooding. The Status Orange warning is in operation for Galway and Mayo from 5am to 1pm Friday and for Donegal from 9am Friday to 6am Saturday. Met Eireann"
The Irish Sea and North Channel look lively during Friday night too.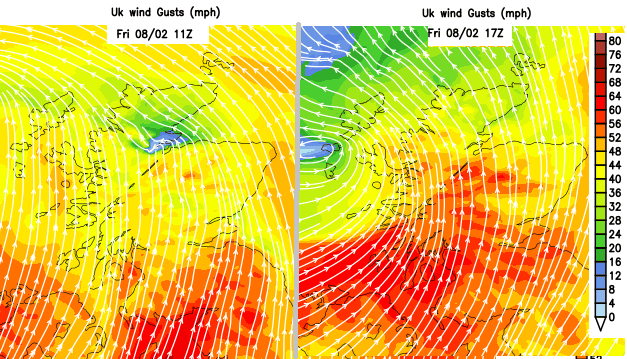 Northern Ireland " Between 09:00 Fri 8th and 18:00 Fri 8th Strong winds will affect Northern Ireland and western Scotland on Friday, with some transport disruption likely. A period of particularly strong winds will affect Northern Ireland and western Scotland on Friday, with gusts of 50 to 60 mph inland and occasionally 70 mph along exposed coasts. Winds will ease slightly on Friday evening."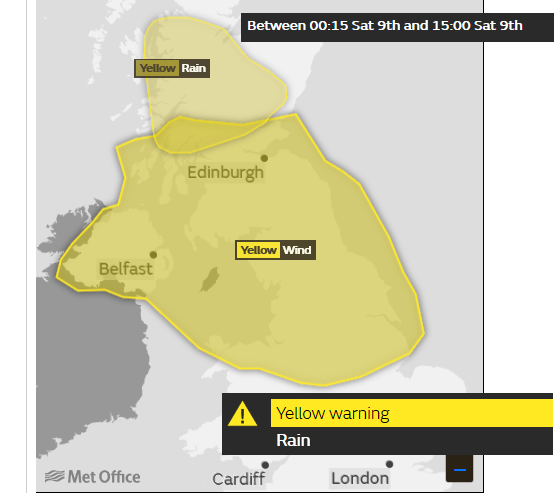 Scotland after the warning from Friday and also northern England, " Between 00:15 Sat 9th and 15:00 Sat 9th. A spell of strong winds will push from west to east through the day, bringing potential travel disruption. Inland gusts of 55 mph are expected quite widely, with some places having gusts to 70 mph, more particularly around exposed coasts and hills.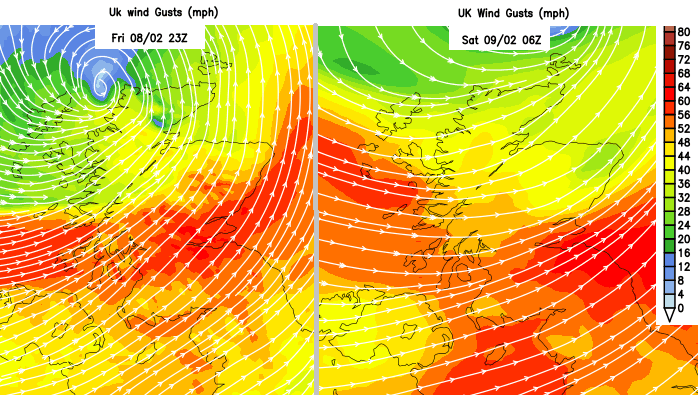 Rain
Met Office rain warning "between 09:00 Fri 8th and 15:00 Sat 9th Heavy rain could lead to some flooding across parts of Scotland. Expect 20-30 mm of rain widely across the area, with up to 60 mm over high ground. Melting of snow will contribute to the risk of flooding."
As Storm Erik pulls away to the east on Saturday, a colder northerly wind will take hold. There will be wintry showers from the NW, and another low pressure heading towards southern Britain bringing wet weather but linking to potentially wintry conditions from Ireland into Wales and the Midlands. Something to watch after Erik. It will feel noticeably colder on Sunday with a frost by the evening.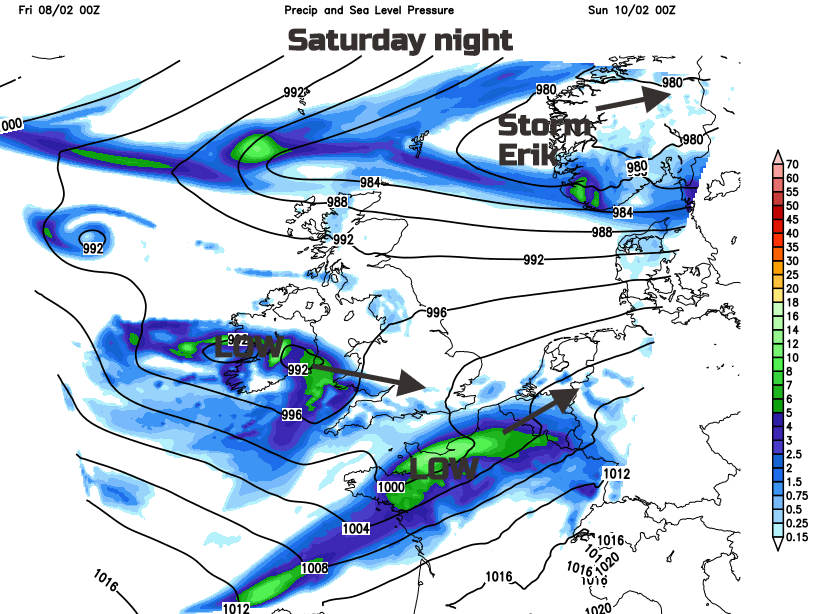 Will we get to Freya or Gareth this season, a look at how the names are chosen and when a named storm might be labelled?